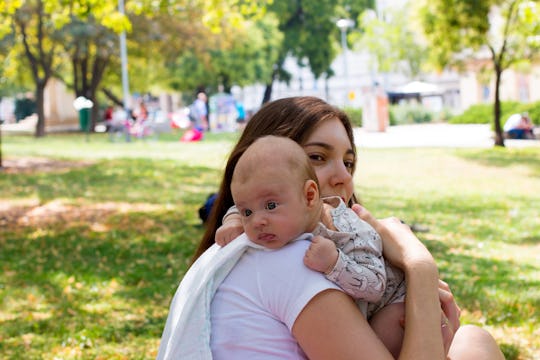 Shutterstock
Here's How To Keep Your Sticky, Sweaty Breastfeeding Baby From Overheating
Two of my four babies were born in the spring, which meant by the time summer rolled around, we were in the throes of intense nursing. Breastfeeding in the heat isn't for the faint of heart, especially if you've got a love/hate sort of feeling for it in the first place. And then, on top of all that, you have to make sure that your baby doesn't overheat while nursing. I tend to run hot anyway, and having a sticky, sweaty baby on top of me while I myself was perspiring was not a cute look — for either one of us.
But I hung in there, and so can you, mama, if you know what to expect. Because you'll soon realize that if your body is rigid and all you're thinking is, "God, are you done yet?" your baby is going to pick up on that and not want to nurse... which might result in an even longer session.
"Nursing during the summertime isn't difficult as long as you stay hydrated and keep your baby close," says Barbara Cohen, IBCLC, an international board-certified lactation consultant in New York City. Still, there are going to be times when you're out and about and find that your baby wants to latch on, swelteringly high temps be damned. So if you find that your baby is overheating while nursing, here's what to do.