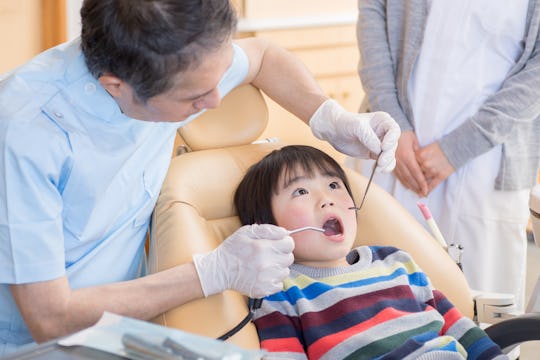 Shutterstock
How To Keep Your Child Calm If They're Headed To The Dentist For The First Time
As I write this, I've just returned with my 4-year-old from the dentist. So really, I wish I had written this story yesterday, when a story on ways to prepare your kid for the dentist would have been more beneficial to me. To her credit, my kiddo has gotten much better about going — she only howled once, which to me is a huge victory. But whether it's their first time or if they've gone before and not liked it, it's a good idea to know what to expect — for both of you.
"First-time visits are always a nervous time for kids as well as their parents," Dr. John Iwasaki, a pediatric dentist, tells Romper. I think that's certainly true. When I have to take any of my kids to the dentist, I always feel like I'm the one who is about to have five cavities filled. Maybe it's the anticipation of not knowing what the dentist might poke around and find in there that makes you wary of going. And the last thing any parent wants is to imprint their own fears and frustrations upon their own kids, thus causing them to grow-up dreading the dentist.
But since both adults and kids alike should go to the dentist at least twice a year, you'll need to find ways to make the experience pleasant (and gasp, not painful). Hopefully, some of these strategies will prevent any dental dilemmas for you and your darling, both now and in the future.