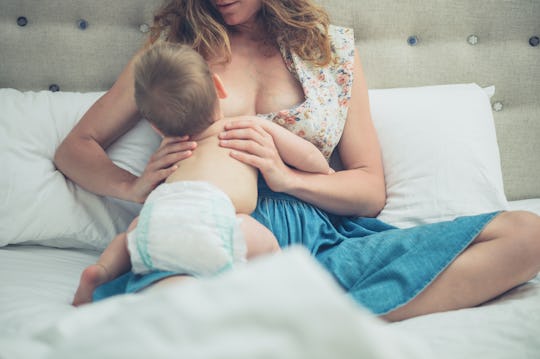 LoloStock/Fotolia
10 Ways To Respond When People Ask If You're "Still" Breastfeeding
From the moment you get pregnant, the incessant questions start — about your body, your birth plan, your baby, and of course, about breastfeeding. The inquiries don't end when you give birth, either. In fact, in my experience, they get worse. It seems like whenever someone finds out that you have a baby, they have to ask if you are still breastfeeding. I heard this question after all three of my babies were born and hundreds of times, from men, women, other moms, curious strangers in the check-out line, co-workers, family members, and well, you get the idea. I am so done answering it. So done you guys.
Why does it bother me? Well, mostly, I think, because it is so hard to figure out how to respond, especially when the person asking me something so person is a relative stranger. If you say "yes" people generally give you unsolicited advice, or worse, they judge you for breastfeeding, especially if your child is older than a few weeks old. If you answer "no" people ask you why, tell you how sorry they are, or shame you for formula-feeding. So yeah, us moms can't win.
How I feed my baby is a personal choice — and one that involves my breasts — so it's not something I feel like discussing with many people, and certainly not if I am not the one bringing it up. It's really none of their business, and it almost always ends with them asking me to justify my choices. Besides, it honestly hurts when people ask, because for me, at least right now, the answer is "no," but not for lack of trying. As a mom who struggled with undersupply, and who has a baby with food allergies, I couldn't breastfeed even though I really wanted to. So, we switched to formula and haven't looked back. So, when people ask me if I am still breastfeeding, I feel like I have to explain my medical history or tell my breastfeeding saga to a perfect stranger, and it almost always followed by a request for more information or a comment like, "that's too bad," or "you can try again next time."
I am tired, so tired, and not just because my baby hates sleep. So, I came up with a few responses to have on hand for next time someone asks me if I am still breastfeeding.