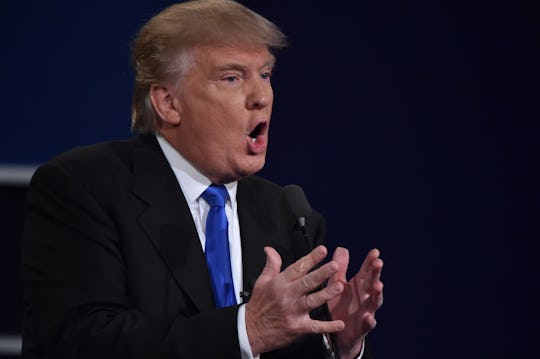 PAUL J. RICHARDS/AFP/Getty Images
10 Ways To Teach Your Son Not To Be A Manterrupter Like Donald Trump
You know how in Indiana Jones and the Raiders of the Lost Ark, when you look directly at the Ark of the Covenant your face melts and your head explodes? That's how I feel about watching Donald Trump. I'm horrified, I'm terrified, and I'm exhausted after over a year of having to listen to the horrible things he says. So I approached the first of 2016 presidential debate with a gnawing sense of disgust, worry, and exhaustion. I watched anyway, and a main take away was this: "How can I teach my son not to be a manterrupter like Donald Trump?"
A quick, clarifying distinction between plain old "interrupting" and "manterrupting." Honestly, there isn't much of one, as the two look very similar to the untrained eye. Yet "manterrupting" usefully (I'd say necessarily) highlights the phenomenon that most women know way too well: frequent interruptions at work, school, on public transportation, literally anywhere you're a woman (so, you know, everywhere) by men. The Daily Wire argues that the 51 times Hillary Clinton was interrupted during the first debate wasn't sexist because Trump interrupts everyone. Yes, it's true that the dude is a vociferous interrupter in general. I would even agree, perhaps, that his penchant for interjecting his two cents is rooted less in sexism than it is in his constant need for attention, his sense of self-importance, and the fact that his lack of substance requires belligerent pomposity. Yet I would counter that his inveterate sexism and abysmal views on women absolutely colored the evening's debate with Hillary Clinton, as evidenced by his very first interaction with her:
Now, in all fairness to Secretary Clinton — yes, is that OK? Good. I want you to be very happy. It's very important to me.
This smug, condescending, faux-chivalry is the kind of crap women put up with all the time, and many of us saw our own experiences in the Trump/Clinton exchanges during the first of what will be three presidential debate. This got me to thinking. As a mother, how I can discourage this kind of chauvinistic behavior in my own son? How can all mothers, in fact, make sure they don't raise another would-be Donald Trump? Turns out, I have a few ideas, including the following: