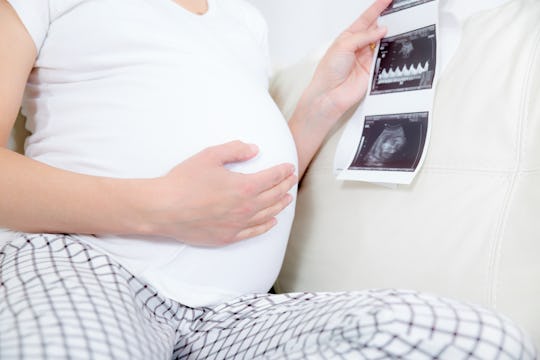 Shutterstock
Here's How To Tell What Your Baby Will Look Like Beyond That Blurry Ultrasound
When I was pregnant with my first child, I (like virtually every single mom-to-be on the planet) wondered what my baby would look like. Would he have my blue eyes, or his dad's thick black hair? Would he be tall like my father, or (gasp) teeny tiny like my 4-foot-8-inch (on a good day) mother-in-law? I rubbed my belly and I wondered if there were ways to tell what my baby would look before he was even born. (But not-so-secretly, I really wanted him to have blue eyes.)
In an effort to create a biological window into the womb, I resorted to my 10th grade bio class notes (yup, I still had them) to determine how my kiddo could possibly turn out. I looked at the Punnett Square for a pre-birth glimpse at my baby boy, but I really shouldn't have bothered. "When you're expecting, you can't be sure of how the baby will come out," says Dr. George Diaz, Ph.D., Professor of Genetics and Genomic Sciences at the Icahn School of Medicine at Mount Sinai Medical Center in New York City.
"If you look at two parents, you can never completely know which traits are dominant or recessive," he adds.
But as you cradle your kiddo in utero, you can look to these signs to see if your kid will look more like mom or dad when they grow up.