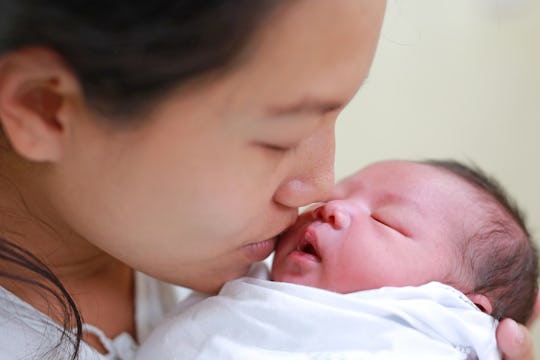 Shutterstock
Don't Freak Out If These 10 Weird Things Happen When You Bring Your Newborn Home
You've had a baby. Congratulations! Your life will never be the same. No really, like never. As a mother of two, I can tell you that every day is an adventure. That's the word us veterans say to the rookies because "adventure" sounds better than "sh*tshow," which is what it often feels like. Having a newborn can fill you with joy, yes, but it's also a time that comes with many unexpected surprises — not all of them pleasant ones. Want proof of the weird things that happen when you bring baby home from the hospital? Check out the 10 tales below, from moms who've been there.
Since my children are eight and four now, it's not always easy to remember the details from those early (sleepless) days. I remember one of the first things my husband noticed when our eldest son was born was how large his testicles seemed for his little body. "He has huge balls!" he said, with what sounded like a hint of pride. Turns out, that's not abnormal. As explained on the BabyCenter website, hydrocele, a common condition in male infants where there is extra fluid in a sac around the testicles, usually goes away in the first few months of life.
I wanted to see what other moms had experienced with their newborns, so I asked several mom friends, who also happen to be amongst the most popular moms on the internet today. These moms never hold back with their delivery of #momtruths, and their answers to this question were no different.