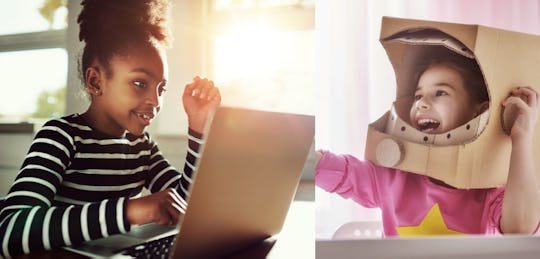 Shutterstock
Literally 1,001 Ideas To Entertain Bored Kids (& Save The Entire Household)
In the first week of our family's official social distancing experience, I broke down. Like, more than once. More than twice, but let's not get into specifics here. The thing is, this is new territory for all of us, and as much as I try to explain to myself that working from home with my 5-year-old and 18-month-old right now is no different than the summer holidays, I know the truth. In the summer, my 5-year-old doesn't have school work. In the summer, ideas to keep bored kids entertained flow out of me because there are other people to help implement them: camp counselors, grandparents, neighborhood friends. When it's the Just Us All The Time show, there are bound to be hairy moments as my kid demands entertainment and I demand at least 10 minutes to answer my emails.
But luckily, we're not the only ones facing this battle. And if you've also got a kid (or several) home with you whining about being bored, I've got the perfect list for you: 1,001 (yes, 1,001!) ideas to keep them entertained. Some of them might need your participation, too, but the thing about this giant list is there's always another idea to choose. I've broken them down into pretty general categories, so if your kid says they're tired of reading, but missing their friends, they can choose an idea under the "connect with someone you love" category. If they're totally over being stuck in the house all day, set them up on a virtual tour in the "pretend you're somewhere else" category. And if their little introvert self loves being quarantined, but is feeling a little fidgety, hit up the "feather the nest" category to find a list of home ideas like making cozy reading nooks and wiping down surfaces to keep them occupied and productive.
And when all else fails, hit the "just be silly" category to do things like the Pee-wee Herman tape challenge.