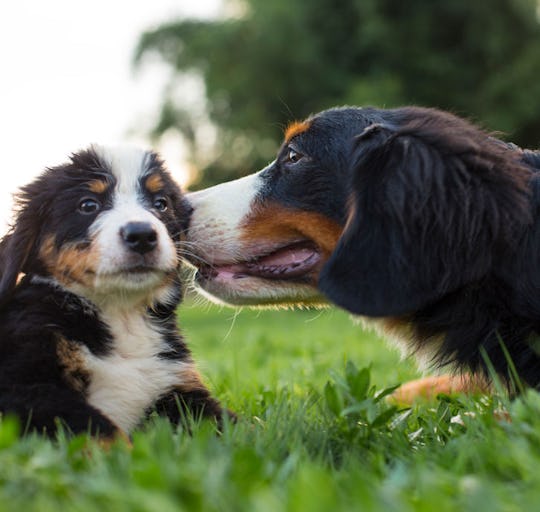 Bo Bo/Stocksy
Cancel Your Plans & Watch These Videos Of Dad Dogs & Puppies All Day
Dogs have been championed as man's best friend since they were first domesticated; bringing an unprecedented amount of dog hair, cuteness, and die-hard loyalty into the lives of many. There are often times when it's easy to feel as though humans simply do not deserve the care and comfort that these canines provide, and this roundup of adorable videos of dog dads interacting with their puppies only enforce those feelings. However, there is one thing that dogs aren't great at, and it's actually pretty substantial. Although they make the cutest puppy parents, it turns out that most dogs are kind of awful at being fathers.
While this does put a damper on every dog lover's 101 Dalmatians fantasy, it's not really their fault. Modern day dogs are just used to having humans do their work for them. Protecting the family, providing food for the litter, and being emotionally available for the newborns — domestication has pretty much eradicated all the dog dad's old responsibilities, as Gino Pugnetti wrote in Simon & Schuster's Guide to Dogs. This means when the pups do arrive, their dads are definitely curious about them, but also a little confused as to what their job is in this new scenario.
Despite the initial struggle, however, there are some furry fathers who rise to the occasion. For the dads who don't decide to leave it all on mom, they may begin to exhibit some signs of care for the puppies, especially if they're a part of the same household. These kinds of dog dads have been known to be playful with their babies, to protect them from harm, and to model behavior for the little ones to follow, as Carlo Siracusa, director of the animal behavior service at the University of Pennsylvania's Matthew J. Ryan Veterinary Hospital, told Fatherly. They may not be perfect parents, but hey, they're trying their best and looking adorable doing it. Not convinced? Check out these videos to see the most precious dog dads actually getting the hang of this whole parenting thing.