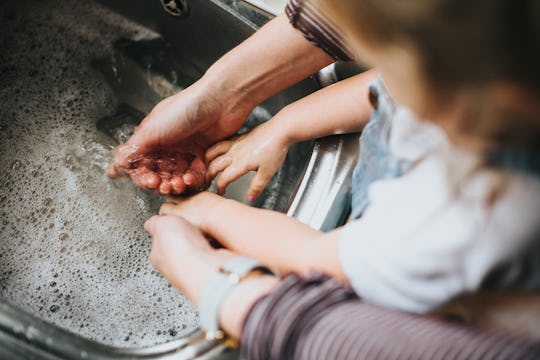 Catherine Falls Commercial/Moment/Getty Images
11 Lotions To Save Your Hands From All The Anti-Coronavirus Scrubbing
Between the cold winds, the dry heat, and the constant hand washing, there's no denying that winter can wreak havoc on a mom's hands. And with coronavirus fears sending everybody's hygiene habits into overdrive (especially anyone with kids in the house), this winter has been especially punishing. So what are the best hand lotions for dry, cracked skin? By now, your once smooth mitts probably look and feel more like sandpaper than anything else.
The worst part is, it's not like you can stop soaping up or anything. Pretty much every medical expert on the planet agrees that washing your hands is the single most effective way to prevent the spread of coronavirus (not to mention almost every other contagious disease). But that doesn't mean you're doomed to a season of crusty, scratchy skin. All you need is some ultra strength lotion to get your hands smooth and supple again, despite washing them umpteen times a day. (Don't be surprised if you also have to apply the lotion umpteen times a day, or at least as often as you can after washing them.)
So if you're getting a little obsessed with keeping your hands (and your kiddo's) clean, these hand lotions will help them feel normal again.