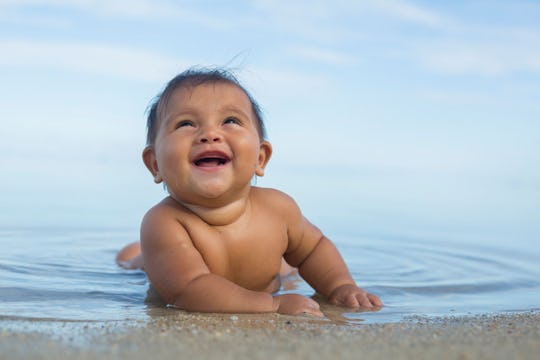 Diane Durongpisitkul/Stocksy
Cancer Babies Are The Snuggliest In The Zodiac, & Other Fun Facts
If your child was born between June 21 and July 22, you have the distinct pleasure of being the parent of a baby born in the zodiac sign of Cancer. Even if you're not a devoted follower of astrology, it's still fun to peek at the description of the traits of your child's sign to see how closely they match your wee one's personality. You might just find that it's more accurate than you imagined.
Cancers are a cardinal sign, according to AstroStyle, a distinction shared by all the signs whose birth dates launch each of the four seasons. That makes them the leaders and trendsetters of the zodiac, and your Cancer child will be the one the friends look to for creative ideas. But far from being attention-grabbers, Crabs are shy and sensitive by nature. Your Cancer baby may be more tearful than most, reported Mom365, but you'll find that they're also super-affectionate, easily amused, and love all the comforting rituals (loveys, baths, bedtime stories) that make new parenthood so sweet.
My children weren't born under the sign of Cancer, but my dad was, and knowing how much he resembled the sign as an adult, I can just imagine what he was like as a baby: a food-loving, sensitive, humorous, artistic homebody who was loyal to those close to him. Below are some of the most interesting facets about little Crabs; give your Cancer-born child their favorite lovey to cuddle while you read on.