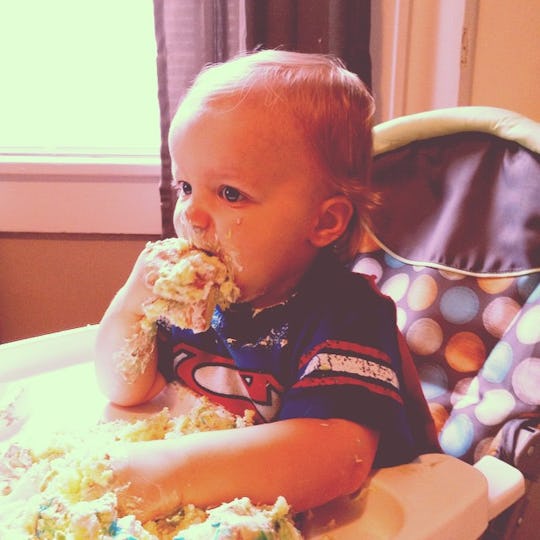 Courtesy Of Hannah Westmoreland Murphy
11 Gross Things Your Toddler Will Eventually Do (And How You Can Survive Them)
Toddlers are adorable and hilarious and oh-so lovable, but they're also ridiculously gross. I mean really, really gross. It's not their fault, to be sure, since they're still learning what is and is not acceptable to eat or play with or cover their bodies in. You have to explicitly teach them not to play with their poop and, well, those lessons are as disgusting as they are necessary. I consider it a right of passage, so-to-speak, as there are gross things your toddler will eventually do that no amount of planning or forethought will save you from experiencing. Just like the lack of sleep, having things set off your gag reflex is just a part of parenting.
Among the weird things only moms of toddlers understand, is a toddler's insatiable appetite for all things sticky, slimy, and seriously sickening. I'm the lucky mother of two toddlers and, well, I'm almost ashamed of the substances I've had to wash off of my kids' hands (and basically every surface of my house). I understand that there are terrible things about toddlers that are actually pretty funny when you look back at them, but that doesn't make me gag any less when I've got human poop in my hair and a dead bug in the palm of my hand while I watch my son lick the surface of a dirty sidewalk.
The reason moms get nothing done is because we spend so much time cleaning unknown substances off of literally everything. I mean everything. It's maddening. At the very least, I do take solace in knowing that I'm not alone in my sticky predicament. Toddler moms share an alliance like no one else, and we're all bonded by our shared, snot-covered stories and struggles. In fact, I'll share some of the gross things toddlers do with you, and how you can survive them, because solidarity is essential if we're going to make it out of toddlerhood in one snot-free piece.