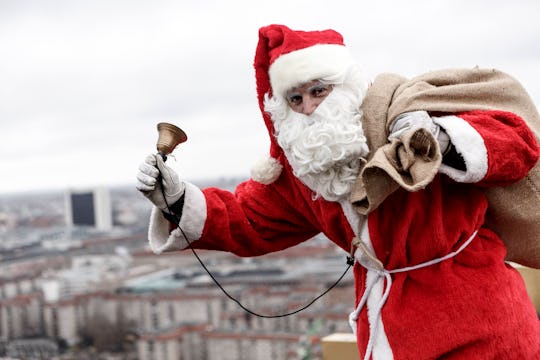 Carsten Koall/Getty Images News/Getty Images
11 Instagram Caption Ideas When Santa Claus Finally Comes To Town
For someone who only visits people once a year, Santa Claus sure knows how to stir up a buzz. It is basically the highlight of every kid's Christmas, a thing that parents know all too well. This year, why not document their excitement with a few photos and Instagram captions about Santa Claus visiting? Together, this combination creates instant memories that can be remembered for years to come. To top it off, friends and family who live far away will adore taking a peek into your own version of the North Pole.
You also can't deny that kids make Christmas better. Their enthusiasm is so contagious, that you might even find yourself being just as stoked, as convinced you were that you wouldn't be. Also, can we just talk about tiny elf outfits and Santa Claus hats? It's all just so cute, and come Christmas season, you have the perfect excuse to dress up little ones, and maybe even yourself, in gram-worthy holiday outfits.
Come Christmas morning, don't forget to snag a few pictures. It may be tricky to remember to capture the excitement in the midst all the holiday chaos, but it will be worth it to have a sweet photo of your kids and family opening up all the gifts that St. Nick dropped off overnight. Pair a festive photo with one of these memorable Christmas captions about Santa's anticipated visit, and you'll have one of the most memorable posts come Christmas day.