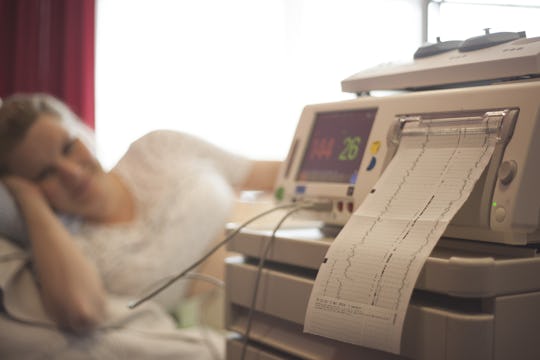 Fotolia
11 Labor & Birth Moments You Wouldn't Be Embarrassed About If The U.S. Were Birth Positive
Is it just me, or is it weird that our society has inherited a habit of frowning upon literally all of the things our bodies do to survive? All the ordinary, mandatory things we have to do to live — like eating, sleeping, peeing, pooping, having sex, and giving birth — as well as inevitable things we experience throughout life (like getting sick) are stigmatized to varying degrees. That weird tendency, plus sexist ideas about women's bodies, contribute to the embarrassing moments during labor and birth, that women wouldn't actually be embarrassed about at all if the United States fostered a more birth positive society.
It makes sense to be cautious around, and even somewhat disgusted by, most bodily fluids. We can get sick if we handle other people's blood, and it's certainly risky to handle our or other people's waste. But when we're giving birth, all of that stuff is being dealt with in sanitary ways, by professionals. And there's loads more stuff, that has nothing to do with anything unsanitary, that we still find ourselves feeling embarrassed about, mostly because we're all raised to feel ashamed about inhabiting female bodies and speaking up for ourselves.
From the moment we're taught that our private parts are "naughty bits," till the moment we're taught that having our periods is "gross," to the moment we go into labor, we're miseducated by ridiculous messages regarding how to maintain our "ladylike" decorum, when literally the only things that traditionally distinguish us as female — our anatomy, bodily functions like menstruation, and our ability to give birth and breastfeed — are widely considered to be gross AF. (Meanwhile, everything else associated with being "ladylike," is about controlling her behavior, behavior that fundamentally isn't innate or exclusive to women at all.) I'm literally dizzy from trying to find some logic in a sea of patriarchal nonsense.
Bottom line: bodies are amazing, and being 'ladylike' is a totally made up thing that no human woman can actually and successfully manage to accomplish at all times (which is awfully convenient for people who idealize womanhood and motherhood, yet use our lapses in "respectability" as a justification to treat real-life girls and women like crap). Whether we're doing incredible yet ordinary things like giving life, or just going through daily life, we're worthy of respect simply for being human. We definitely shouldn't feel embarrassed for doing any of the normal sh*t (literally) that normal humans do, including and especially the following: