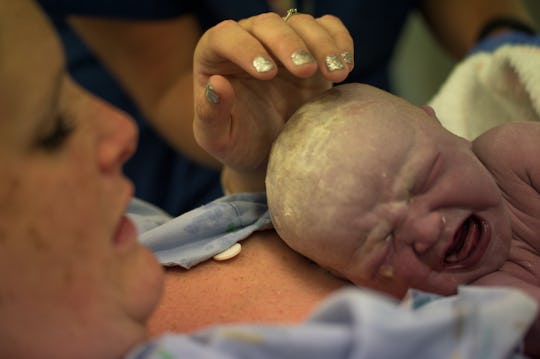 John/Fotolia
11 Moms Describe What It's *Actually* Like To Watch Your Baby Crown
Few things in my life have been more amazing, surreal, and disturbing than watching my baby enter this world. It's actually pretty damn difficult to describe what it's like to watch your baby crown. I felt some pressure, like I needed to take a massive sh*t, which is about the time my midwife invited me to take a peek and see if I could start pushing. She wheeled in a giant mirror and angled it so I could see my comically swollen vulva. I laid on my left side, placed my foot on her shoulder, and started to push like I've never pushed before.
It took a few practice pushes for me to get a hang of the whole "pushing another human being out of my body" thing, but seeing my daughter's head-full of dark hair helped me feel strong and motivated to push her into the world. It was really amazing, but also really gross, which pretty much describes parenthood in general, if you think about it. So consider the act of watching your baby crown to be a crash course in motherhood.
In my conversations with other moms, I have heard some similar experiences. Some thought the mirror was helpful, allowing them to actually see their pushing progress and motivating them to do that last little bit to push their babies into the world. Others marveled at the moment they realized that labor was coming to an end and that they would soon meet their babies. Some thought that while seeing their babies crown was amazing, seeing blood, fluids, and their poor mangled vulvas under pressure was another story entirely. Yikes. Others didn't like it at all. I think everyone I spoke with agreed that it was unique and unlike pretty much anything else in the human experience, though, and that highlights an incredible truth we can all agree on: our bodies are amazing.