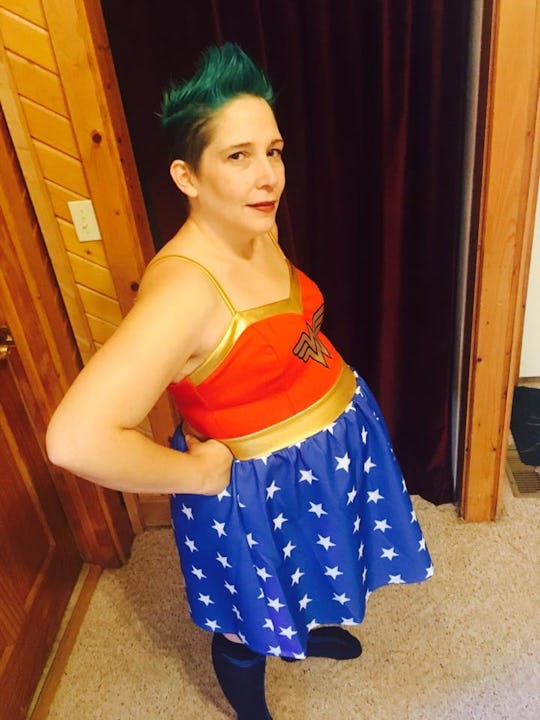 Courtesy of Steph Montgomery
10 Ways My Epidural Made Me Feel Empowered
Before I had my first baby, I was so intrenched in the "natural" child birth movement that I lost some necessary perspective. I honestly believed that having a medicated child birth was unhealthy for me and for my baby. I also believed that if I had to have an epidural, I would end up feeling helpless and weak which, as a sexual violence survivor, was seriously scary. As it turned out, my epidural made me feel empowered, not helpless or weak at all. That's seriously badass.
While I totally support pregnant people making informed choices and when possible, consenting to medical procedures (when safe for both them and their babies) — and I think it's horrible when people feel pressured into procedures they don't want — I want to tell everyone about my epidurals. Like, literally scream it from rooftops and call everyone I know. Maybe, purchase a billboard? Honestly, I'm still thinking about the marketing plan.
Before I had my daughter, I was terrified that having an epidural would be painful, harmful, and hurt my birth experience. I was so scared. That's both not OK and really freaking terrible. I went to the hospital scared out of my mind. I didn't feel empowered at all. I tried to keep an open mind, and then I had a conversation with my midwife. She was totally supportive of me choosing no pain medications or choosing all the meds. She explained my options and recommended that I wait and see how things progressed and keep those options open. In other words, she rocked.
As it turned out, 18 hours of back labor and no sleep in over 36 hours was my threshold for pain and exhaustion. When I asked for it, I felt so ashamed (which is horrible considering I wouldn't feel ashamed to ask for Novocaine at the dentist). After I got it, I was transformed. I knew I could do bring my baby into the world, I got some damn sleep, and I even laughed with my husband. When it was time to push, I got to push side-lying (not on my back like all my friends had threatened) and my midwife held a mirror so I could watch my daughter being born. I didn't tear, and besides some hemorrhaging (which had nothing to do with the epidural) both baby and I were healthy.
So, honestly, there are so many ways I felt empowered by my epidural, including the following: