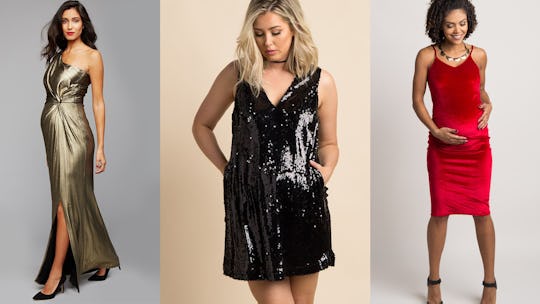 A Pea In The Pod; PinkBlush; PinkBlush
11 New Year's Eve Maternity Dresses To Shine Your Way Into 2018
When you've got a bun in the oven on New Year's Eve, the entire occasion takes more planning than usual. Instead of cocktails, you're trying to mix up an equally refreshing mocktail, since booze is obviously out of the question. Then there's last year's sweet dance moves that you're forced to put on hold, because you can't even see your feet. And then there's the question of finding a knockout New Year's Eve maternity dress that will make your bump sparkle and shine. I mean, what's New Year's Eve without being extra? It's time to bring on the glitter and ruffles, future mamas.
Besides, being pregnant during the turn of the year doesn't always need to revolve around sweatpants and hoodies, as comfortable as they may be. Party dresses for pregnant women are totally a thing, and thanks to the Internet, it's possible to buy a piece just in time for the big night.
To top things off, take some time to research delicious holiday mocktails. It's amazing what you can do with ingredients like seltzer, fruit juice, and grenadine. Pour the drink into a martini glass or champagne flute, and you won't even realize it's free of booze. Don't forget to stock up snacks to satisfy your food cravings all night long, too.
Oh, and as for those dance moves? You might not be popping and locking as hard as usual, but at the very least, you'll have a tiny dance partner with you at every second.