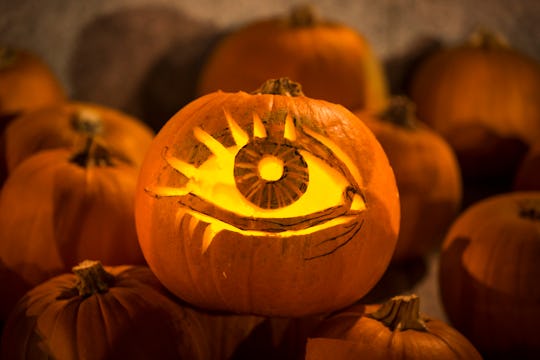 Rob Stothard/Getty Images News/Getty Images
11 Pumpkin Carving Stencils To Make Your Jack-O'-Lantern Hella Cool
I don't know about you, but in my opinion October is the best month. You can't compete with it. I'm already excited thinking about scary movies, candy corn, and ghosts. This is my favorite time of year. What sounds better than getting a group of friends together for a Halloween movie and carving some badass pumpkins? Nothing.
Unfortunately, if you are anything like me, arts and crafts are not your forte. I look forward to this day all year, and every year I'm disappointed with my pumpkin carving skills. My typical jack-o'-lantern looks like a 6-year-old was using a knife for the very first time. Although... I bet some 6-year-olds can make way cooler pumpkins than me.
Some people are naturally pumpkin carving masters. They whip out a knife and crave beautiful artwork that puts my shoddy jack-o'-lantern to shame. Who are these people, and why am I not one of them? All I want is a pumpkin that everyone wishes were theirs, one that's so rad all the kids are Instagramming photos of it. Luckily for me, there are some pumpkin carving stencils out there that will help you take your jack-o'-lantern to the next level.