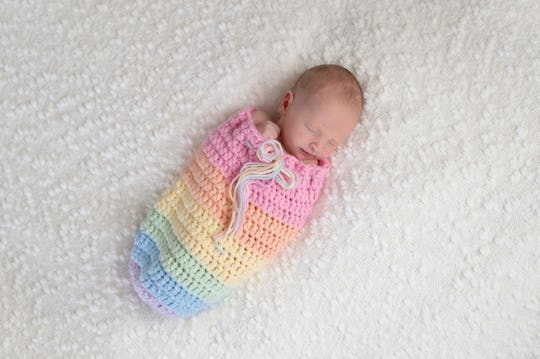 katrinaelena/Fotolia
11 Rainbow Baby Quotes To Remind You That You're Never Alone
A rainbow baby is the life that follows the storm of a heartbreaking loss, and conceiving a rainbow baby is a testament of enormous faith in life and love. Whether you've trying to conceive your rainbow baby, or you've been enjoying the sunshine for a while, Romper reached out to experts willing to share their wisdom with us. The result is 11 rainbow baby quotes that may make you tear up — while hopefully helping you hold on.
With one in four pregnancies ending in miscarriage and 1 percent of all pregnancies in the United States ending with a stillbirth, it's no wonder that parents of rainbow babies need support, love, and a lot of hope. That's where rainbow baby quotes come in — you're not alone, and you should be reminded of that every day. Your guilt, your anguish, your fear, and even your joy over your rainbow baby are all exemplified here, in these 11 quotes.
Parents of rainbow babies have witnessed the worst storm life has to offer, and seen the sun come up again. They parent at the intersection of life and death, celebration and grief, with incredible strength. If you need help managing the conflicting emotions of parenthood after devastating grief, reach out to Pregnancy After Loss (PALS) to share your story, or connect with others who have been where you are today. Just because the rainbow's ahead doesn't mean parenthood will be clear sailing from now on. Watch the documentary Expecting Sunshine: A Journey of Grief, Healing, and Pregnancy Loss for artist Alexis Marie Chute's rendering of her lighted path.
Best of luck on your journey. I hope these quotes help you feel that you're never alone and encourage you to remain hopeful and strong.