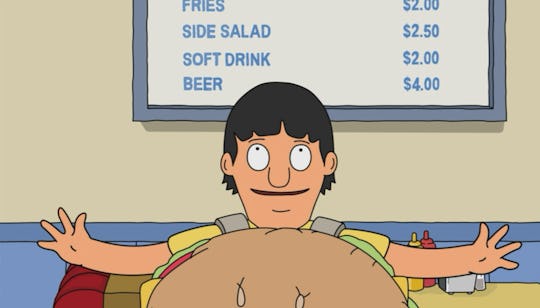 11 Reasons Gene Belcher Is The Son Every 'Bob's Burger' Fan Wishes They Had
Out of the top animated families on television right now, the Belchers of Bob's Burgers are easily the most relatable. I'd like to go a step further and argue that, of all the Belcher kids, there are many reasons Gene Belcher is the perfect son. Sure, the rest of the family is great, too — Tina is a feminist role model, Bob Belcher is the best TV dad, you know Linda is the "fun mom," and of course Louise has great comebacks — so what exactly makes Gene Belcher the ideal kid? He's probably most known for his keyboard skills, love of farts, and ability to liven up any situation, no matter how tense or awkward. Plus, Gene has some of the best quotes from Bob's Burgers.
One of his iconic lines could accurately describe my dating style: "You should know that when you hold hands with me, you are holding hands with everything I've ever eaten." So true. He may not be quite the standout character Tina is, but he's got his own style. His honesty is just one of the many reasons I hope my son will be a future Beefsquatch or put on his own musical adaptation of Die Hard at school. Whether you're already a parent, you're about to be one, or you just think fart noises are hilarious, check out the top reasons why Gene Belcher is the son you wish you had.