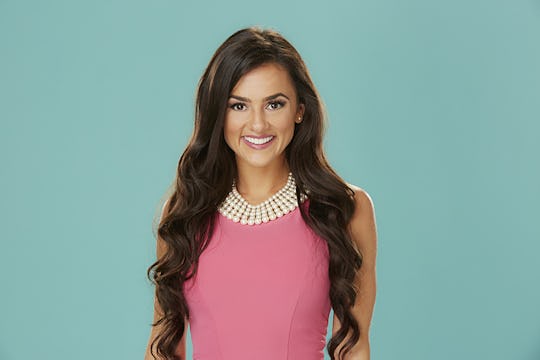 Monty Brinton/CBS
11 Reasons Natalie Negrotti Should Win 'Big Brother', Because She's Easily A Fan Favorite
It's never too soon to start talking endgame when it comes to Big Brother, because that's what all of the houseguests are working toward anyway — that check of a cool $500,000 and bragging rights. Always the bragging rights. But lately, it's kind of hard to root for anyone right now, let alone in the long-term. Still, Natalie should win Big Brother 18, if only to spite the jerks of the house. There are far too many wolves in the Big Brother house at the moment that you almost want to see them all go down. That being said, one of the only shining beacons of light is Natalie, who has remained the same person since day one.
Now, that may just be a small part of some huge master plan that she's concocted, but I like to believe that Natalie is just a nice person who loves the game and wants to play it honestly. We all know that's not really how it works in the Big Brother house, of course, but she's already a fan favorite and so far hasn't garnered many in-house enemies to speak of that could do her real damage, so it's totally reasonable to want Natalie to win and to root for her.
The jerks of the Big Brother house can try to bring her down and even work on sabotaging the showmance she has going with James, but she's a Spy Girl at heart, and she can totally win this thing.
1. You Can't Mistake Her Kindness For Weakness
Natalie is easily the nicest and most genuine person in the Big Brother house, but don't get it twisted. It definitely doesn't mean she's going to let any of the houseguests walk all over her. As she said in her pre-show interview, "I'm Latina, so I can kick some butt if I need to."
2. She Isn't Letting A Showmance Get In The Way
The showmance between Natalie and James on Big Brother has been a beacon of hope in the otherwise divided and backstabbing house. But, showmances are notorious for making players weak. Natalie and James are different, as they have kept their friendship completely separate from the house and the game. Maybe down the line they'll be seen as a threat — duos often are — but for now, they are keeping church and state divided.
3. Physically, She's A Strong Competitor
There's no doubt Natalie is in great shape, but she also used to be an NFL cheerleader and has said that she ran track, as well, so she's covered as far as physical competitions go. She hasn't done amazingly so far, but as James told her, now is the time to build up her social game anyway, as she'll be able to show off her physical prowess in comps later on.
4. Fans Are Rooting For Her
It's hard not to root for the nicest person in the Big Brother house, but fans are also regularly voting for Natalie as their favorite on JokersUpdates.com, which regularly updates to Twitter regarding Big Brother and takes daily polls of fan favorites in the house. And for the past several days Natalie has come in second to James. Not even surprised.
5. She Has Values
When she was talking to Tiffany in the live feeds, she was assuring her that she was there for her emotionally, to help her if need be. She also said something about the prize money on Big Brother not being worth the money if it meant hurting other people. OK, so obviously she wants that half of a million dollars, but Natalie also cares about people as opposed to having a one-track mind about that money. (Which, I know, is controversial inside the Big Brother house.)
6. She's The Only Spy Girl People Still Like
Bronte was voted off, and Bridgette remains in the house, but of her and Natalie, our girl Nat is currently the most well-liked Spy Girl in the house. Bridgette signed her eviction certificate when she allowed herself to be controlled by Frank, leaving Natalie to kind of own things as far as the Spy Girls are concerned.
7. She's The Sweetest Person In The House
Obviously it should go without saying that Natalie is the sweetest person in the Big Brother house right now, but you really can't say it enough. From the way she plays and cuddles with James, to her ability to talk to pretty much everyone in the house on a real level, Natalie is like the best friend we all need. And while her best friend attitude might not get her to the end, it might get her America's Favorite Player.
8. She Quickly Accomplished Her Main Goal In The House
From the very beginning, Natalie's main goal in the Big Brother house was to create an all-girls alliance, and she did that shortly after this season began. With Bronte and Natalie, she formed the Spy Girls, which honestly didn't have much time to do a lot, but still. Natalie accomplished her goal in that respect, so what else can she get done on her own?
9. She Would Use The Prize Money For Good
Natalie is a former NFL cheerleader, but right now she works as a non-profit event coordinator. She probably wouldn't take that $500,000 check and sign it over to a charity, but chances are, she'd be using the money for good. Obviously, it's her money and she can spend it however she would wish, but Natalie has a good heart, so fans can trust that she wouldn't just throw it all away. As she said on the live feeds before being quickly quieted, she has tens of thousands of dollars in student loan debt and her parents could use help as well. Clearly, the money would make a huge difference and she would know how to make that possible.
10. She Doesn't Play The Game Maliciously
Natalie is in the house for that big old check at the end of it all, but she's also there to enjoy the experience and be herself. Which she's been doing since day one, as she's built friendships and relationships and hasn't treated one houseguest better than another. She also, like James, saw the cruelty in the way the other houseguests were treating Tiffany before the live eviction, and went out of her way to try and be there for her.
11. She Can Get Dirty If She Needs To
Like she said before, she can kick some butt and get down to the levels of the other houseguests if that's what she needs to do. That's a good quality to have when you're in the Big Brother house full of people who probably aren't there to make lasting friendships or be kind to the others without ulterior motives.
With four houseguests already gone from the house, there are still 12 remaining, but now is as good a time as any to start placing your metaphorical bets, and believing that Natalie will win Big Brother isn't the worst way to go.