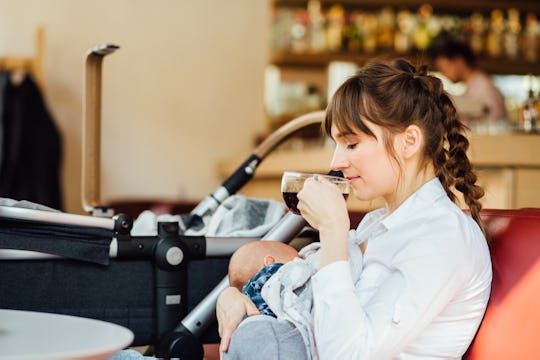 Iryna/Fotolia
11 Reasons Why I Don't Care If I Flash Strangers During Breastfeeding
There's really no telling how many people have seen my breasts during the three years I breastfed my two children. They ate all the time and I rarely brought a cover. While I was stealthy and never had an instance where I wound up attracting a ton of attention to myself, accidentally or on purpose, I know for a fact that my boobs have been exposed in public. But you know what? IDGAF. Seriously, the reasons I don't care if I flash strangers during breastfeeding are myriad and varied, from politically profound to simply "meh."
Unfortunately, in a modern American context, breastfeeding, particularly in public, is often a political act, whether intentionally or not. This is, of course, absolutely absurd since this is simply the way human beings have fed their babies since the dawn of nipples. Outside of being extraordinary when considered as an evolutionary development, there's nothing all that remarkable about breastfeeding. That's just, you know, generally the way things have been. So how did this become a thing?
In the late 19th century, Justus von Liebig invented infant formula, which was another pretty extraordinary development. Not only has formula saved countless baby lives, it's also allowed women more physical (and therefore financial) freedom by expanding the circle of people who can feed their baby in the mother's absence. But then things took a turn when formula companies realized there was money to be made and, as a result, took great efforts to discourage breastfeeding (often relying on pseudo-science and outright lies about breastfeeding, aided considerably by a Victorian and post-Victorian disdain for women's bodies). By 1972, breastfeeding rates had dropped to a historical low of about 22 percent, with only five percent nursing beyond the first few months.
Whether or not a woman chooses to breastfeed is immaterial, because there's no wrong way to feed a baby in this wonderful age of choices. But if you do not have access to the resources to give you options, well, it's not really a choice, is it? Nowadays, most babies are breastfed for at least the first three to six months of life, but getting to that number took a lot of dedicated effort from breastfeeding activists.
So it's in this context (and in the context of "honestly, let's not make this a thing, guys") that I truly don't care about showing a little bit of boob to a stranger. Here's why: