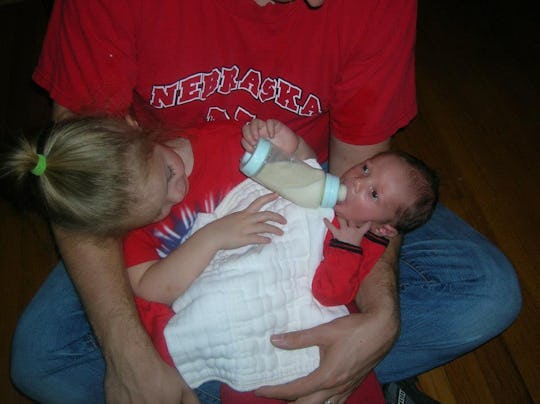 Courtesy of Steph Montgomery
Why Formula Feeding Is Actually A Feminist Choice
Breastfeeding advocates spend a lot of time claiming they promote breastfeeding because they "support women." However, their support for women seems to stop at their breasts and, well, that's wrong. Parents deserve to be able to choose to feed their babies in a way that is healthy, safe, and right for their families. They definitely deserve to make that choice without being shamed. Which is why formula feeding is actually a feminist choice.
What does formula have to do with feminism? Well, I firmly believe that being a feminist means supporting people in making choices – not just choices about birth control and pregnancy, but choices about their bodies and babies, too. It means supporting equality at home, in the workplace, in public, and for everyone regardless of their gender, identity, or sexuality.
Formula gives people the ability to nourish their babies when they can't or don't want to breastfeed, or when breastfeeding isn't even an option. It can allow people to advance in their careers, take care of their babies, and take care of themselves, too (something you totally need to do in order to be a good parent). However, far too many breastfeeding advocates claim that formula companies prey on unsuspecting women and that a lack of education or support is why they choose formula. That kind of attitude is condescending and diminishes women and their autonomy, rather than supporting the idea that we have the right to make our own choices.
For me, formula saved my babies' lives when I didn't produce enough breast milk, and that's reason enough to love it. However, it was also great for my mental health, gave me freedom, and let my husband play a more primary parenting role in our family. Despite what the "breast is best" crowd might say, for our family, formula was a feminist choice, and the right choice for u s.