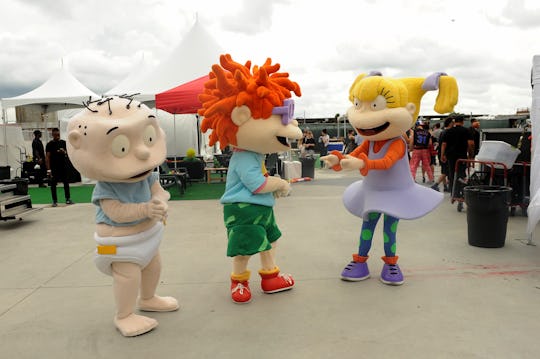 Brad Barket/Getty Images Entertainment/Getty Images
11 'Rugrats' Costumes For All You *Real* Nickelodeon Lovers
If you're a true millennial, you remember Rugrats, the Nickelodeon animated show about toddlers who ignored their parents in the name of friendship and adventure. Now that we are those parents our children just love to ignore, the show is remarkably relevant all over again. So it's no surprise that this year's sleeper costume is, yet again, the crew of Rugrats characters. We're here to help with a selection of 11 Rugrats halloween costumes, that you can either DIY or buy for the sake of convenience.
If you're dressing for a party with a bunch of friends, Rugrats characters are a great option for Halloween costumes with friends. You'll just have to fight it out over who is going to be Tommy, Dil, Chuckie, Phil and Lil, Angelica, or Kimi. If you had an even bigger group, you could even add in parents, like Didi and Stu Pickles, Tommy and Dil's resident (and sometimes negligent) adults.
Some costumes are easier to DIY than others, but thankfully stores have picked up on the popularity of the costumes and have them well stocked before Halloween creeps up on us.
Here's a run down of both DIY and in-store options for the best Rugrats costumes for your dress-up pleasure. With over 150 episodes in its heyday, at the very least you'll want to have a pre-Halloween marathon!