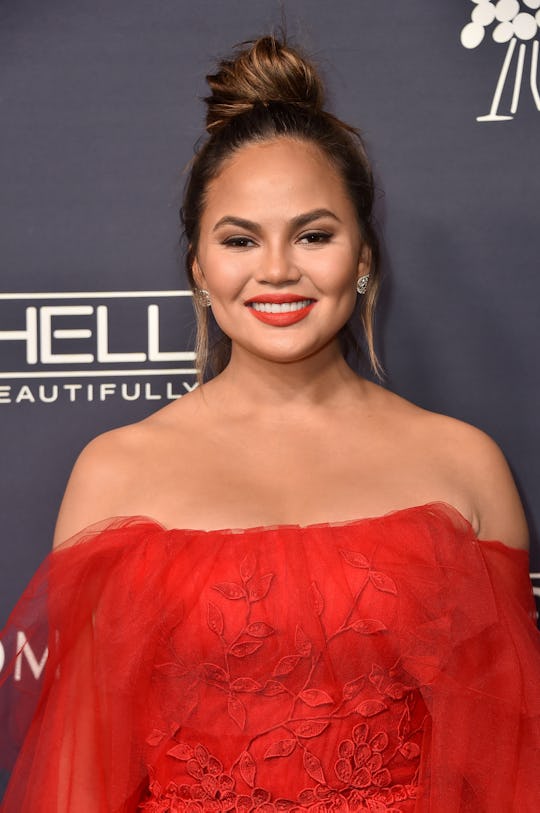 Frazer Harrison/Getty Images Entertainment/Getty Images
11 Surprising Facts About Chrissy Teigen That Will Make You Love Her Even More
Over the past decade, Chrissy Teigen has made a name for herself. As a model, chef, cookbook author, Twitter queen, TV personality, and one of the funniest and honest celeb moms out there, she's one of those people you just wish you could be friends with and tell her all your secrets and insecurities. Though she's shared a lot about her life with the world over the years, you might not know these 11 surprising facts about Chrissy Teigen. And they will definitely make you love her even more than you already did.
Teigen might be a supermodel married to Grammy-winning musician John Legend, but she's actually completely down-to-earth. She's a huge food lover, regularly slays people on Twitter, and even her husband said he started to fall in love with her because of how clever her texts were, according to an interview with Entertainment Tonight. And now that she's pregnant with her second child — a baby boy due this June — her hilariously honest pregnancy tweets prove that she's never been more relatable. Really, it's clear that Teigen is #goals on just so many levels
Sure, you might feel like you she's your BFF and you could probably guess her favorite food, but here are 11 things you might not have known about the queen herself:
1. She Was Discovered While Working At A Surf Shop
Teigen got her start in modeling over a decade ago when she was discovered while working at a surf shop in California. She told The Daily Beast in 2014 that she definitely didn't think she'd end up where she is, but that modeling fell into place for her, explaining:
I always wanted to be a teacher or wanted to do something with food. But modeling, I just never thought I could do it myself really ever. I still have trouble calling myself a model. I just never thought I was tall enough or skinny enough. [When I was starting] it was the time of the very thin, waify runway models. So, I knew I couldn't do that.
2. She Met John Legend On The Set Of One Of His Music Videos
Back in 2006, Teigen was hired to be a model in Legend's music video, "Stereo." She told Cosmopolitan that the two talked throughout the entire shoot, and went out for burgers afterwards. "I'm not going to lie. We hooked up," she said in the 2014 interview, before explaining how their relationship evolved into a marriage seven years later. She told Cosmopolitan:
I let him be himself for a while. The worst thing you can do is try to lock someone like that down early on, then have them think, "There's so much more out there." I played it cool for a long time. Never once did I ask, "What are we?" Marriage was never my goal, because I've never been very traditional. I was just happy to be with him.
3. Her Mom Lives With Her
Teigen's mom, Vilailuck, lives with her and Legend, according to Bravo. She often posts photos of them all together, and especially of her mother taking care of Luna. It's clear they have a super strong family dynamic going, and that her mom is supportive of Teigen in every way. Most recently, she tweeted a photo of her mom and Legend at their kitchen table saying she is "so lucky."
4. Her Friends Call Her "Terry"
Teigen has a nickname you probably wouldn't expect: her friends call her "Terry," and for a very, well, Chrissy reason. She told DuJour Magazine:
Jean shorts, a slouchy shirt and chunky boots. Or a towel. All my friends call me Terry because I'm always in a terrycloth towel. If I'm not out, I'm in a towel. I can't do robes.
5. She Thinks Social Media Is "Ruining" Relationships
Despite the fact that she's an epic queen on Twitter, and her jokes have absolutely no end (she was notoriously blocked by none other than President Donald Trump last year), Teigen can't imagine being in a new relationship in the age of social media. She also told DuJour Magazine:
Definitely. It's ruining relationships that are already in the sh*tter. I've never been in a new relationship during the Instagram era, but I could see myself getting jealous. I can't imagine having to deal with that stuff.
6. John Legend Wrote "All Of Me" For Her Before They Got Married
Being the person who inspired one of the greatest love songs of the last decade is, uh, pretty impressive. Legend told LA Confidential that they shot the music video for that song in Lake Como, Italy, where they would also marry later that year.
7. Barack Obama Gave Her Baby Name Advice
While doing press for her first cookbook, Cravings, Teigen told Stephen Colbert that she actually consulted President Barack Obama on whether or not he liked the name Luna, which was, at the time, still a secret. She told Colbert:
We change it all the time. Actually, I asked Barack if he liked one of our name choices, and he said he did, but then I realized I should have came up with two and let him choose, because you know, you have to be nice about it. I wanted to ask him because John isn't sold on the name, so I figured if [Barack Obama] liked it, he would too.
8. She Loves Food... Like REALLY Loves It
Teigen didn't just become a New York Times bestselling cookbook author for no reason: she loves food, and she's not shy about it. She told The Daily Beast in 2014:
I have never been ashamed to say that I love really dirty food that maybe has high-fructose corn syrup, maybe the ingredients have stuff from old yoga mat parts or whatever. I've always loved snack food, it's very comforting to me. I don't have a sweet tooth — I would take an entire turkey over a chocolate cake… I love a ham & cheese Hot Pocket. I love White Castle frozen burgers. Taco Bell. I actually will doll up the frozen White Castles with fresh onions and cheese. That's so sad, but I love it. There's not many frozen foods I won't eat.
9. John Legend Tried To Break Up With Her Once, & She Said No
Teigen told Cosmopolitan that one time while he was on tour, Legend tried to break up with her, saying that he couldn't be in a relationship at that moment. Teigen swiftly rejected the idea. "That [breakup] lasted for one day. Literally, a day. I knew it came from a place other than us not working... I always joke, 'Remember when you tried to break up with me?' He's like, 'Yes, sorry. Big mistake.'"
10. She's A Protective Mama
Teigen told Us Weekly in 2017 that the main reason she is not going to get divorced is because she doesn't want another woman raising her daughter. She told the publication:
I told [John] the number one reason we are not getting divorced is because I refuse to see another woman with my baby.
11. She's "Cried" About Her Body Insecurities
Despite being a literal supermodel, Teigen proves that she's human just like anyone else, and sometimes feels really inadequate compared to other people on social media. She told Glamour:
There have been times I've cried to John, where I felt like I would just never have "that" body. I've definitely been really upset with…you know, everyone has a butt now, everyone has curves, and a little waist, and that's not me.
However, despite it all, she says she also realizes the importance of making sure you love yourself first. She added in the same interview:
I'm in a weird phase where I'm jealous of those bodies, but I also really want to be cool with my own body. I really want to be that person for you all, that says, "You don't need that f*cking sh*t." I've been on shoots. I've been naked-to-naked with people. I will say that everyone has a stretch mark. Every time I see that other stretch mark, I'm like, "Girl, yes!" It makes me feel better, and if more of us did that kind of sh*t, how many people would feel better?
It's somewhat of a challenge to find little-known facts about Teigen, who is a self-proclaimed "over-sharer," as Billboard noted. But at the end of the day, she has one of the most interesting lives and still remains one of the most down-to-earth celebs out there.
Check out Romper's new video series, Bearing The Motherload, where disagreeing parents from different sides of an issue sit down with a mediator and talk about how to support (and not judge) each other's parenting perspectives. New episodes air Mondays on Facebook.