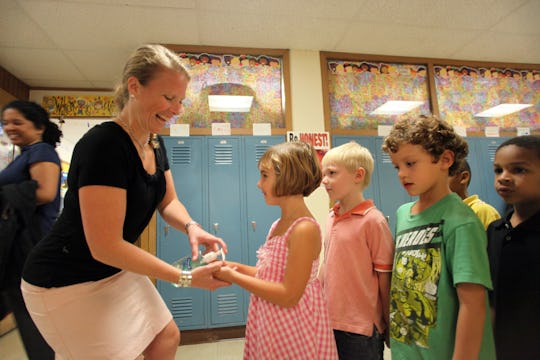 MCT/Tribune News Service/Getty Images
This Is What 11 Teachers Had To Say About How Coronavirus Is Affecting Our Kids
As the debate rages on over whether or not schools should be closed to prevent the spread of coronavirus, teachers are finding themselves torn between concern for the well-being of their students and their own safety. We asked 11 teachers about coronavirus and how it's affecting their jobs and their students on a day-to-day basis, and their answers reveal a heartbreaking reality.
"My biggest fear is not about the coronavirus itself, but what will happen to the kids if the schools close?" Amanda H., an elementary school teacher in NY, tells Romper. "Many students in our population are from low-income families, and often eat both breakfast and lunch at school. If we close, how will these kids eat?"
It's true that as of this writing, schools are closing left and right. Some, like the Whitehall-Coplay School District in PA, are temporarily closing to undergo deep sanitizing after a student tested positive for coronavirus. Others, like Seattle Public Schools (where a faculty member tested positive for COVID-19), went under a mandatory quarantine for at least 14 days, CNN reported. In light of these closings, federal lawmakers have proposed the Families First Coronavirus Response Act, reported ABC News, a bill including a provision for expanding the Supplemental Nutrition Assistance Program (SNAP), which provides low-income families with funds to purchase food. Funds will come from an emergency coronavirus spending package worth over $8.3 billion if the bill passes.
In the meantime, we spoke with teachers (from elementary all the way up to high school) to see how they felt about the COVID-19 virus. While some are scared (and rightly so) and others are taking a more pragmatic approach to the pandemic, all shared the common interest of ensuring that their students' educational experience and safety remain the top priorities. Here's what they had to say.