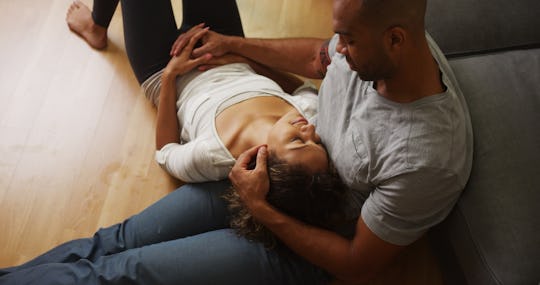 Fotolia
11 Things Every Grown-Ass Man Does After An Infant Or Pregnancy Loss
When I found out I was pregnant with twins, I knew I would need certain things from my partner. I would need his support and I would need him to rub my back when I was throwing up (always) and I would need him to remind me that I could, in fact, handle being a mother. What I didn't realize, what I never imagined realizing, was that I would need my partner to do all the things every grown-ass man does after an infant or pregnancy loss. I didn't want to need these things from him and I didn't want to experience this with him, but we did and, thankfully, his willingness to be a grown-ass man during arguably one of the most difficult moments in our lives, allowed us to continue with my pregnancy and, eventually, welcome our healthy, thriving son into the world.
At 19 weeks, I lost one of our twin sons. His heart simply stopped beating. In an attempt to save our remaining son, I had to carry the body of my diminished twin, and my still kicking, still growing son, up until the day I went into labor. I birthed a son who would take a breath, and a son that wouldn't. I experienced pregnancy and infant loss, and the miracle of life, simultaneously. While I needed space and time to heal (directly after we lost our twin and even after we brought our son home) I also needed my partner to go through the loss with me. I needed him to take time for himself and heal from the loss he was experiencing, even though he wasn't the one who was pregnant and he wasn't the one who had to give birth. I knew that he was just as devastated as I was, and being a grown-ass man meant that he wouldn't be afraid or ashamed to express those feelings and, subsequently, remind me that I wasn't alone.
There is no "one way" to heal from a pregnancy or infant loss and there are countless things couples, both together and apart, do to get through such a difficult time. However, there are things a grown-ass man can do to help not only his partner heal, but help himself heal, too.