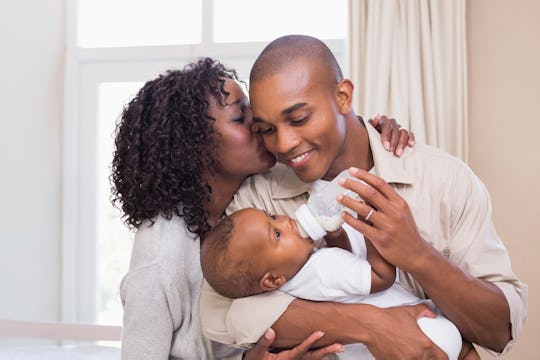 Fotolia
11 Things Every Grown-Ass Man Does When His Partner Decides To Switch To Formula
Thankfully, I was able to breastfeed my son for seven wonderful (albeit difficult and exhausting and sometimes self-doubting) months. Unfortunately, those seven months failed to reach the amount of time I actually planned on breastfeeding. I had a difficult time breastfeeding and my son weaned himself and, well, when I realized my breastfeeding journey had come to an end and it was time to bottle feed, I was sad. Thankfully, my partner did the things every grown-ass man does when you decide use formula, and while those things didn't take every guilty, disappointed feeling away, they certainly helped.
The decision to end breastfeeding can either be a forced decision, made out of necessity and something completely out of a mother's control; or one made simply because a mother no longer wants to breastfeed anymore. Either way, she needs support and understanding and encouragement. My transition from breast to bottle was a little bit of both; I was having a hard time breastfeeding and didn't necessarily fall in love with the act entirely and I definitely wanted complete autonomy over my body again, but I didn't initiate weaning; my son took it upon himself and refused to breastfeed one random day and to my total surprise. I didn't push the issue and while I was mildly relieved that the night feedings and the pain and the exhaustion were closer to being a part of my past, I was also devastated that the quiet moments that I would be able to spend with my son, feeding him with nothing more than my person, had come to an end.
Thankfully, just like breastfeeding, my grown-ass partner knew that he would be part of the weaning process and the formula feeding process and every other process in between. Sustaining a tiny life isn't a one-woman job, even if it was the woman's body who carried the burden for any significant amount of time. So, with that in mind, here are a few ways every grown-ass man can help his partner after she has decided it's time to use formula. Just like every other parenting choice, this one can be tough so, you know, all hands on deck.