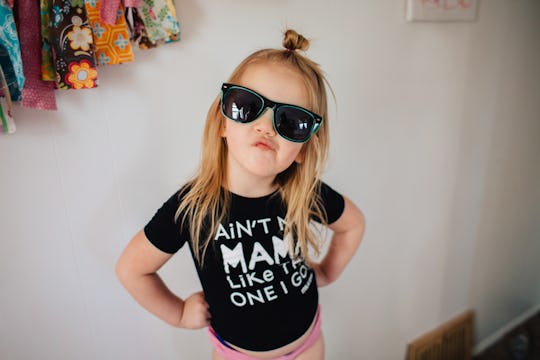 Jessica Byrum/Stocksy
Here Are Some Of The Things I'd Rather Deal With Than A Judgmental Parent
Sometimes you see it coming, sometimes you don't. You're at the playground, or drop-off, or a mommy and me class, having an absolutely lovely time... when all of a sudden, you can just feel it: The look. Maybe it's after your child starts to kick up. Maybe it's after someone discovers that you formula feed. Maybe it's completely unprompted. The look. That burning glare of smug judgment you sometimes get from other parents, sometimes followed up with a lecture. Let me tell you about the things I'd rather deal with than a judgmental parent, because none of us have the time or energy for this crap.
In order to convey how completely crappy it feels to be judged by a fellow parent, let me juxtapose it with something truly amazing. Have you ever had a "magical mama moment" out and about? If you have, you probably know what I'm talking about. It's a moment when you're struggling and another parent (let's be honest: usually a mom, but not always) helps you out in some way. Like when someone spots you a diaper or stops your toddler from running away while you struggle with an infant.
The other day my four year old was pitching an uncharacteristic sh*tfit in Home Goods (which, first of all, how dare you, child, this is my sanctuary). So I was in a doubly foul mood when I eventually picked her screaming ass up and hauled her out the door as literally everyone in the store stared at me... and some of those stares were very clearly judgmental. But right next to the exit was a lone woman who gazed at me with a mix of pity and admiration and said "Good for you. You've got this."
My mood? Instantly lifted. I went from just barely holding it together to being like "Yeah. I do got this!"
She was awesome, and I wish I could find out who she was and thank her. But judgmental parents? Here are all the other things I'd rather endure than them...