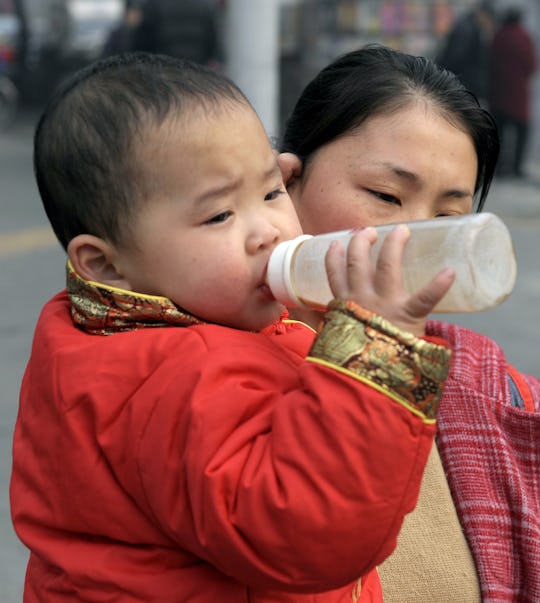 LIU JIN/AFP/Getty Images
11 Ways Formula Feeding Can Make Your Life So Much Easier
For some women, it can be a difficult decision to bottle feed your baby rather than breastfeed. So many mothers set out to breastfeed their babies, but milk production or infections or pain or other complications end up forcing them to bottle feed. However,for other moms, formula feeding isn't a tough call at all. Not everyone is able (or willing) to breastfeed, and while breastfeeding can definitely make a mother's life easier, there are ways formula feeding can make your life so much easier, too.
We're all different, and we've all got our own unique circumstances or preferences when it comes to feeding our babies. Honestly, the only thing that really matters is that our babies are being fed, whether that's by the boob or by the bottle. So, for those that have chosen (or have been forced) to forgo breastfeeding, you may have encountered some unfair stigma around how you're feeding your kid. No one should ever be judged for formula feeding, but we don't live in a perfect world and withstanding judgment is, sadly, a pretty normal part of a mother's life.
Because of that judgment and shame and stigma, many mothers aren't aware of the benefits of formula feeding, and I'm not just talking about the nutritional aspects of it (which are great, in case you were wondering). There are several other factors to consider when opting for bottles and formula, many of which will make your life immensely easier.
So, shake off that counter-productive shade others may or may not be throwing at you, and consider the following 11 ways your life is going to get easier if you've chosen (or need) to formula feed.