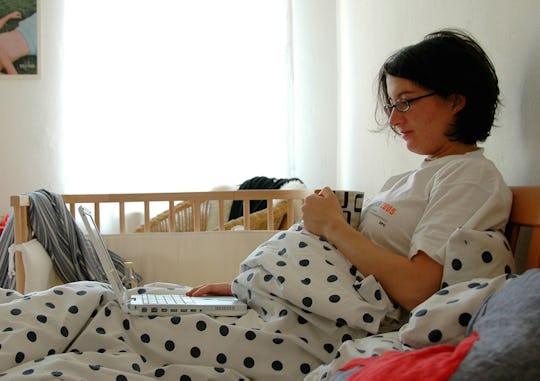 Jan Hoffman/Flickr
11 Ways Social Media Can Be Such A Helpful Thing For New Moms
It's no secret that social media, for as addicted as we all are to it, gets hated on pretty seriously, on a pretty consistent basis. And while there's no denying that social media makes new moms feel bad about themselves, social media can also be an extremely helpful tool for new mothers, too.
Being active on social media means, for better or worse, you're constantly connected to people. You're able to dip into a pool of learned wisdom and earned knowledge whenever you need, which can be a life raft for a new mom who might, at times, feel like she's drowning in an experience that is foreign and overwhelming. When a mom posts about the realities of motherhood, you don't feel bad about that pile of dishes in your sink or the frustration you're feeling. If you feel like you're alone or you're unsure of what to do, all you have to do is post a status update with a question to your mom friends, and boom: answers everywhere.
Of course, everyone's experience with pregnancy, labor, delivery, and motherhood is different, but in the midst of those differences is a connection that social media can enhance and/or foster. We may not be going through the exact same thing at the exact same time, but that doesn't mean that we can't share our stories and feel like we're part of a community that is supportive, inclusive, and healthy.
Here are just a few ways that social media can be so good for new mothers, because when the Internet isn't being the worst, it's kind of the best.