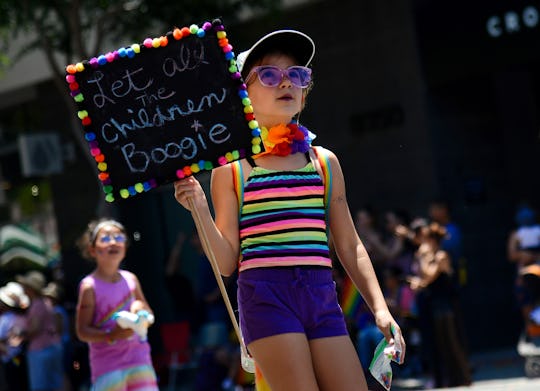 Chelsea Guglielmino/Getty Images Entertainment/Getty Images
Here Are 11 Cool, Colorful Ways To Celebrate Pride With Your Kids
You celebrate pretty much every major holiday with your kids. Christmas/Hanukkah/Kwanzaa? Got that covered. Valentine's Day and Martin Luther King, Jr. Day? Check and check. Heck, you've even painted shamrocks on your face for St. Patty's Day. But what about Pride? During the month of June, events are happening all over the country... and that means it's time to celebrate Pride with your kids.
Beyond parties and parades (both of which can be super fun and are a great way to be LGBTQ+ friendly), it's important to participate in Pride as a family. It conveys a message to your kiddos that everyone matters, and that we are all equals. So let's say that you're looking to do something beyond rainbow floats with your kids, though. After all, you want to show your children that you're active proponents of the LGBTQ+ community, and in effect, that you're all family. You just might not know exactly how to accomplish that.
The activities below are a great way to participate in Pride, and the best part is you don't only have to do them in June. You can pick and choose from any one of these fun things to do this month and throughout the year to show your support of the LGBTQ+ family.