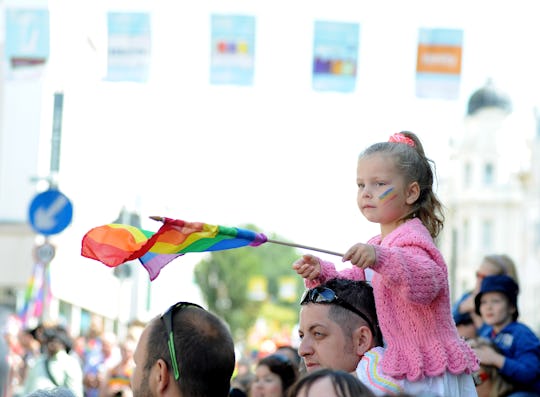 Tabatha Fireman/Getty Images Entertainment/Getty Images
7 Pictures Of Kids Celebrating Pride That'll Give You Hope For The Future
During the month of June, the LGBTQ+ community celebrates our existence and persistence in a world that is, frankly, not always welcoming. Perhaps you've seen some rainbow flags outside of your favorite bar or club, or you've come across a Pride march or festival in your neighborhood. Even better, maybe you've encountered some kids celebrating Pride Month in your community. And if you have, hopefully your heart was as happy to see them as mine. Honestly, there's nothing more inspiring than knowing there are kids across the country who are growing up in loving, accepting environment.
Sadly, however (and still in the year 2018), there are people in the world who don't understand why kids and their parents celebrate Pride. They don't "get" why parents "expose" their children to the marches and events that take place all month long, or why it's so important for families to attend these events together. In fact, there are people who think we are terrible, evil parents for allowing our kids to wear rainbow-colored clothes and proudly wave rainbow-colored flags and celebrate diversity and inclusivity and love.
Of course, I disagree, as do many other intersectional feminist and LGBTQ+ parents. We know the way to building a more tolerant, loving future is by being accepting, compassionate parents. So while some might still disagree, I believe there's nothing wrong with celebrating Pride with your kids. In fact, I encourage it. So why not get your family in the mood for some celebratory festivities and look at a few photos of kids enjoying Pride? After all, love is love is love.