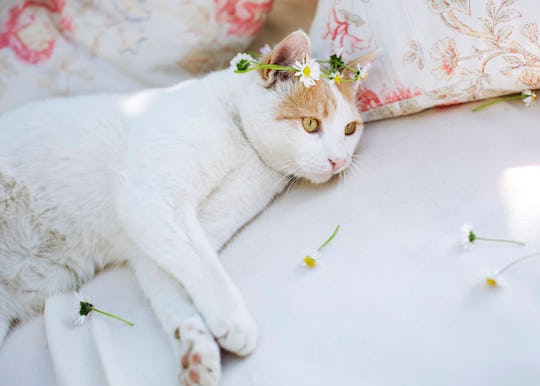 Laura Stolfi/Stocksy
You'll Love These April-Inspired Cat Names & Your Cat Will Be Like, Whatever
Like most months, April means different things to different people. But what does it mean for your cat? Given the average cat's temperament, I'm going to guess anything that doesn't directly affect your kitty's immediate comfort level doesn't mean all that much to her. Unless, of course, April is the month you bring your new furry friend home. In that case, you might be in the market for some April-inspired cat names. (Your cat won't care, but so what?)
Actually, cats might like certain things about the month of April. Maybe the floor is less chilly on her paws. Maybe there are interesting insects making an appearance in the yard. Maybe finding a warm, sunny patch to nap in is easier these days. If your cat could speak, she might begrudgingly admit that yes, April is pretty okay as far as months go.
Would she consent to the idea of being named after her special month? Perhaps not, but that's only because she would likely insist that you address her in a less casual way, like "Your majesty" or "Highness." This, however, is why you should honestly be glad that you cat can't talk. I know, sounds like so much fun. But consider what she would have to say about your secret candy shelf or how often you rely on dry shampoo. Cats see everything. And you just know they're super judgmental.
Anyway, I feel fairly confident that your cat would not hate any of the April-inspired names on this list. Maybe she wouldn't love them, but she wouldn't hate them.