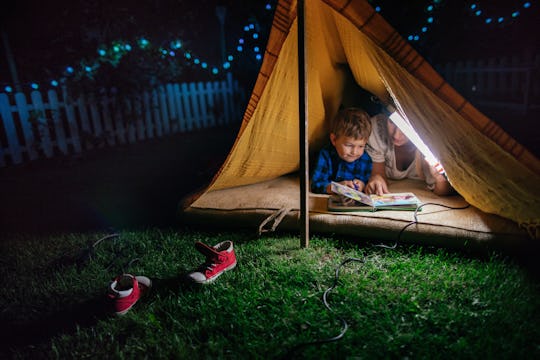 AleksandarNakic/E+/Getty Images
13 Backyard Camping Ideas The Whole Family Will Love (Because S'mores)
When it comes to embracing the Great Outdoors, you can't beat backyard camping. It's got everything you could ever want from traditional camping (like grass, the stars, and s'mores), but with all the benefits of being close to home — literally. Like if your kiddo suddenly gets spooked by sleeping outside and wants the cozy comfort of their bed, well, it's right there. But with these fun backyard camping ideas, you'll probably have a hard time getting them back inside.
Sure, in theory, you could schlep a tent, a grill, and a ridiculous amount of gear to a camping site many miles away, but really, why bother? Instead, you can set up shop right outside your back door and be able to run in and out of your house for anything that you might need (like extra ketchup, blankets, or your kid's favorite teddy bear). And if all that weren't enough, the lure of having your own private loo (instead of dealing with a nasty, stinky, and ew, sticky Porta Potty) a few feet from your tent should have you sold.
So instead of staying at home on a Saturday night, grab some gear and plan to party al fresco with your family. And don't forget the marshmallows!
We only include products that have been independently selected by Romper's editorial team. However, we may receive a portion of sales if you purchase a product through a link in this article.