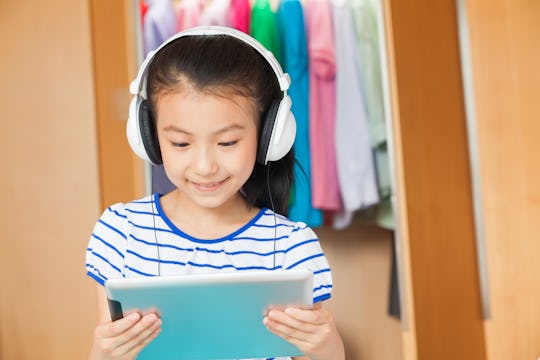 Shannon Fagan/Photodisc/Getty Images
These 12 Audiobooks Will Make Early Readers Excited To Turn The Page
You may think that audiobooks are just for entertainment on long trips, but they can also be a powerful learning tool. Though it might seem counterintuitive, these 12 audiobooks for early readers can actually improve comprehension and pronunciation, and are engaging enough for the whole family.
For kids that dread reading, audiobooks can be especially helpful; in addition to exposing children to stories without the anxiety of decoding words, audiobooks can increase word exposure and build vocabulary, and develop age-appropriate content knowledge (per We Are Teachers).
Plus, audiobooks are really fun and lively; stories come alive through the use of funny voices, music, and sound effects. You may already have some of these classic books on your little one's bookshelf (or strewn across their bedroom floor) but there's still reason to opt for the audiobook too. This way, kids can follow along in the picture book as the audiobook plays which can make reading "'multisensory' and... that can help kids get better at sounding out words (decoding) and reading comprehension," according to Understood.
Listening to audiobooks is similar to reading out loud to your kids, as the act of hearing a book helps kiddos start to see patterns and connections between spoken and written language. With this in mind, these 12 audiobooks are ideal for any kid who is just starting to read.