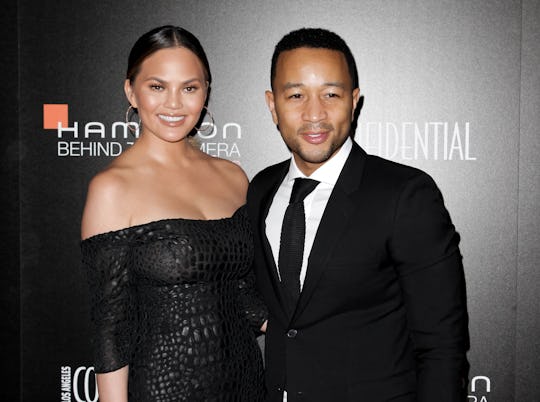 Tibrina Hobson/Getty Images Entertainment/Getty Images
12 Celeb Parenting Quotes That Prove 2016 Wasn't All Bad
This past year has been a bit of a doozy, in many regards, and there are plenty of people out there who are excited to see it off. However, let's take a moment to remember that it wasn't all bad: We got to see Chrissy Teigen's daughter Luna model a bunch of Halloween outfits, we witnessed the beauty of Ryan Reynolds' parenting tweets, and we saw a whole bunch of adorable new baby bumps unveiled. To celebrate this year's top-notch famous parents, I've rounded up the best celebrity parenting quotes of 2016, which will make you laugh and shake your head knowingly and mumble, "I'm not crying, you're crying" as you sniffle at your work desk.
Because seriously, it's been a great year to watch your favorite celebrities grow up as parents. Zooey Deschanel (whose daughter is the adorable year-old Elsie Otter) talked about her healthy cake failure, Chrissy Teigen got super real about the downsides of giving birth (hint: there are diapers involved and they're not for the baby), and Blake Lively took on the difficult topics of women's identities as mothers and their postpartum beauty.
In case you missed the best ones out there, don't worry. I've got them all here for you:
Chrissy Teigen
"It's the little smiles that get you," Teigen told ET in May. "There is no feeling like that first little smile, your first Mother's Day, which was so beautiful and sweet to me. The entire day my eyes were on the verge of tears because I was so happy."
Tina Fey
"[Kids] augment your life and your perspective. And they wear you out," Fey told The Hollywood Reporter earlier in December. "There's a Stephen Sondheim song, 'Being Alive.' It's about how people you love just wear you out and irritate you and sit in your chair and make you lose sleep. But it's what life is."
Ryan Gosling
"It's heaven," Gosling told Good Morning America of living with two young daughters in May. "It's like walking through a field of flowers every day. I live with angels. It's a ray of sunshine."
Olivia Wilde
"Anyone else suck at parenting today?" Olivia Wilde tweeted in September, proving that, yes, even celeb moms and dads feel like epic failures sometimes (and further proving that, hey, that's okay).
John Krasinski
"The anticipation is scary, whether you're prepared or not," Krasinski told Us Weekly in August. "It's gone on to be the best experience of my life! Through my kids, I get to experience the world all over again."
Mila Kunis
"Children are f—ing crazy. They're also suicidal. Like, at the park, certain jungle gyms have an opening for older kids to jump out of. She's 19 months; she can't jump. She just walks off it as if she's on a pirate ship," Kunis told Glamour in July, referring to her daughter, Wyatt Isabelle. "Have a baby, and you realize: The second you think you got s—t figured out, you don't. It's the greatest wake-up call."
Ryan Reynolds
"During those first six months, it's amazing that you find a way to keep going," Reynolds told Men's Health in January. "Just the lack of sleep, and the hallucinations. F—k peyote. You want to trip balls? Have a kid and see what it's like to be awake for a month straight."
Kelly Clarkson
"I used to [think] everything was so important with work," Clarkson told ET in December. "And it is still important, but I am not a brain surgeon so no one is dying on a table if I do not record a song. It is OK if I go to art class with my daughter instead."
Justin Timberlake
"It's an extremely humbling experience and I've never had more poop on my person!" Timberlake told 97.1 AMP in May. "I was talking with someone the other day and they were like, 'Well, I have a dog!' But imagine when you clean up your dog's poop. You roll in there with the heavy duty Bounty paper towels and you stand like you've got a 10-foot pole away from it. I'm like, 'Dude, when you have a kid, you just get in there, man!'"
Jessica Alba
Alba told Parenting that sometimes, you do take a trick out of your mom's book:
When I was a kid, I told myself, "When I become a mother, I'm never going to say 'Do it because I said so!' to my children. I'll definitely give them my reasons." Yep, I've totally said it—and without giving reasons.
Adam Levine
"I don't know anything, but it's kind of part of the beauty of it, honestly," Levine told Ryan Seacrest when interviewed in October. "There are a lot of instincts, a lot of things that kind of kick in and switch on. It's a beautiful experience."
Blake Lively
In June, Lively opened up to Marie Claire about the vulnerability a family brings:
My parents, my siblings, my daughter, my husband, my nieces and nephews — that's where I get very mama bear. There are two ways to look at it. You could look at it as, "That's what I'm vulnerable about." But also, "That's the thing that excites me in the world." So I don't really think about them as my vulnerability as much as I think about them as my reason for everything.
So there you have it: 2016 may have been a tough year in many ways, but along the way, a lot of awesome parents shared the cute, the hard, and the smelly that comes with having kids. Here's to just as many baby bumps and great quotes in 2017!