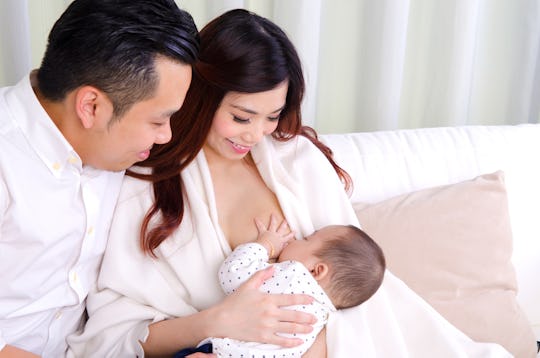 szeyuen/Fotolia
12 Dads Describe What It's Like Watching Their Partner Breastfeed
Breastfeeding my two children was a truly meaningful experience. It's been almost two years since I weaned my youngest, and some days I'm wistful. That's why I made sure to take pictures and videos before I stopped. Looking at those moments from the outside, I began to wonder what it was like for my husband to observe. "A little odd at first, because of how new it was, but I grew up around hippies, so breastfeeding is no big deal." I wanted to know more, so I asked other dads to describe what it's like watching their partner breastfeed.
Breastfeeding can put dads and non-gestational parents in an interesting position, especially those who want to try to create an equitable division of labor with their partners. Because, unless they are willing and able to trigger lactation (and, honestly, I blame absolutely no one for not doing so) breastfeeding is something a partner can support, but can't really help with. Like, if you and your partner are a baseball team, in this particular scenario, you can only ever hope to be the bat boy. Generally speaking, this is going to be a spectator sport for dads. But hey, that's OK. We get it, and we understood that when we were making the choice to breastfeed in the first place.
So what is it like for dads on the outside looking in? As in all things parenting related, it depends.