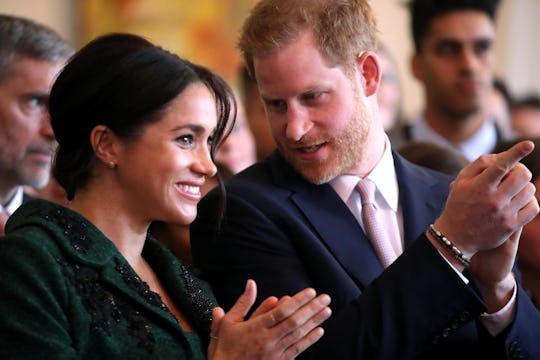 Chris Jackson/Chris Jackson Collection/Getty Images
12 Royally Rad Baby Boy Names Meghan Markle Seriously Needs To Consider
For most parents, choosing a baby name is a mostly private affair; in fact, it seems many moms and dads would prefer their family and friends to keep their opinions on the subject to themselves. For royal parents-to-be Prince Harry and Meghan Markle, on the other hand, it's been practically impossible to keep anything about Markle's pregnancy private — and people especially love to speculate about what the couple will name their first child (along with the child's still-unknown gender). So which royal baby boy names might Meghan Markle be considering? If you're a betting sort, you could even turn a profit with your prediction.
As Town & Country reported, betting websites including Betfair and Ladbrokes started taking wagers on the royal baby's name mere days after the pregnancy was announced last October. Unsurprisingly, the majority of people expect the Duke and Duchess of Sussex to pick a traditional name, one that's likely shown up on the royal family tree already. But who knows? Harry and Meghan are arguably the most modern majestic pair yet; there's no guarantee they'll adhere to any conventions they consider outdated.
Perhaps they're even open to suggestions. Because according to CNN, while on a tour of New Zealand, Fiji, and the Kingdom of Tonga, Meghan told a young fan that she and Prince Harry had "been given a long list of names from everyone," and that they planned "to sit down and have a look at them."
Hmmm. I'm not personally convinced that these two will find the name of their dreams from the slush pile, so to speak, but it's sweet that Meghan acted as if she might. Still, she and Harry will likely pick a name that's more along the lines of these following candidates... if, that is, they have a boy. (See royal baby name predictions for girls here.)