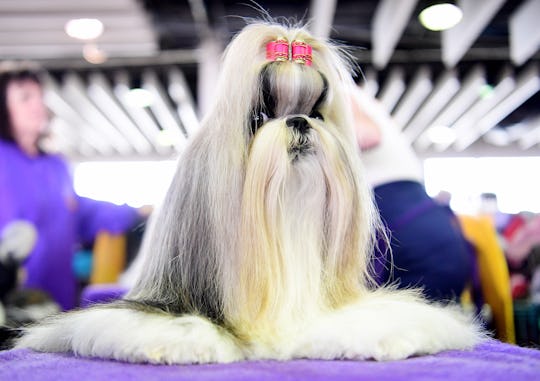 Sarah Stier/Getty Images News/Getty Images
Even Marie Kondo Would Find Joy In These 12 Minimalist Dog Names
Thanks to Marie Kondo's much-buzzed-about "KonMari" decluttering method, minimalism is the ideal for millions. When you pare down everything but your most-beloved items, you're left with a less-crowded living space and a sense of calm. So why not take the technique to other areas of your life... like pet names? Picking a minimalist dog name could be the next big trend among KonMari followers, and perhaps beyond.
Really, what's the deal with giving your dog a name with lots of syllables? Or more than one name, for that matter? Unless your pooch is a member of the royal family, you don't need to overload it with a flouncy, overly clever moniker. It's not like it's going to go around the neighborhood telling the other dogs, "My people loved me so much, they named me Yeezy McRuffFluff." The purebreds who compete for the prestigious Westminster Kennel Club Best in Show title have short "call names" in addition to their full registered names, as the Barrett Weimeraners website explained. A champion pooch may officially be known as Ch. Valmont's Rebel Alliance Millennium Falcon in the show ring, but he answers to "Han" when he's getting a tummy rub at home.
Even the American Kennel Club recommends that you give your dog a short one- or two-syllable name, which will get its attention more quickly than a longer mouthful. If it's heavy on the consonants, so much the better; dogs hear hard sounds more clearly than soft ones. It seems minimalism is actually hard-wired into a dog's brain.
Welcoming a new pup into the family? First of all: yay. Second: Consider gifting it with a striking yet simple name that Marie Kondo herself would approve of. The following are just a few of the options you could choose for a dog that fits nicely with your decluttered space.