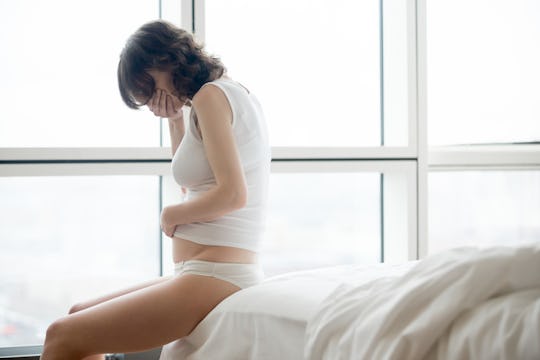 Fotolia
12 Moments During The First Trimester That'll Convince You You're Going Crazy
When you're pregnant, it seems like there are a ton of extra details to manage. What week is it? Can I eat that? Where can I go to throw up? It's enough to make anyone stressed, let alone someone who's already dealing with fatigue, nausea, and hormone fluxes. It's no wonder that there are a number of moments during the first trimester where you'll feel crazy. I mean, it's a crazy time in general, so it's bound to catch up to even the most calm and chill of soon-to-be moms.
When I was pregnant with my son, I accidentally let it slip to my then-boss that I was expecting. I was just short of six weeks along, and still processing the news myself, so it's safe to say that this slip-up was somewhat ill-advised. Thankfully, she was wonderfully supportive and kind (and excellent at keeping secrets), so letting her in on the news turned out to be a very good thing. I had someone in my corner during the work day, and someone rational who could remind me that, yes, there was something huge going on, so my feelings weren't crazy, they were valid.
When I think back on that time and imagine what it would have felt like to not have my then-boss in the know, I'm sure that the following moments would have gotten the best of me. Really and truly, I was just one awkward moment away from totally spiraling into a frenzy of baby-induced confusion and feels. Ah, pregnancy. It's the best, right?