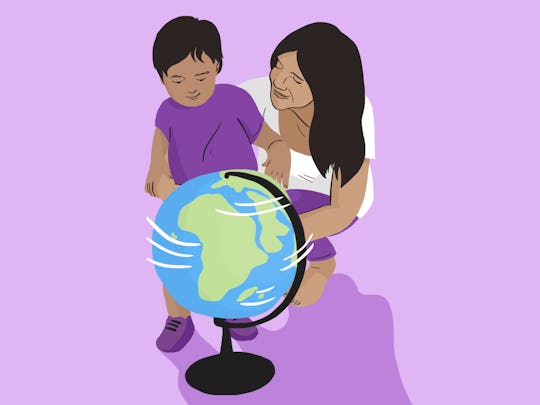 Claire Joines/Romper
12 Sacrifices Stay At Home Moms Make That No One Thanks Them For
All parents face challenges. Whether you're a young mom struggling to fit in with your kid-free peers, or you're one of a growing number of stay-at-home dads, or you're a working mom figuring out how to balance work and kids, you know that no matter your circumstances, this business of being responsible for a small (and disastrously naive) human (or humans, bless your heart) is going to test your patience, your limits, and your soul.
After the birth of my second child, I left my office job to become a stay-at-home parent. There's a lot I love about my new gig, but a lot of it is thankless in ways that I don't think I would have been able to relate to before I actually did it myself. Because, yeah, before I had kids, no one threw me a parade every time I cooked dinner. When I worked in an office, I didn't have medals pinned on my blazer for every report I submitted on time. But in both of the aforementioned instances, there was some hope of being thanked for a particularly delicious meal that I was not required to create or an email from the CEO telling me how great the latest proposal looked. Being a SAHP means you're constantly and exclusively doing a series of tasks that are so basic to everyday existence that it doesn't strike anyone to thank you for it. The line between what you "do" and what you "are" is blurry and that can be confusing or even deflating.
Obviously I'm not the first person in history to point this out: The hard work of stay-at-home parents is touted on many a Facebook graphic in overwrought language that makes it seem like SAHM stands for "stay-at-home martyr," which is how all of us feel in very isolated moments, but is pretty much not how any of us feel all the time or in general. Still, I would like to point out just a few of the things (of varying degrees of severity) that stay-at-home parents are rarely, if ever, thanked for — but definitely should be.