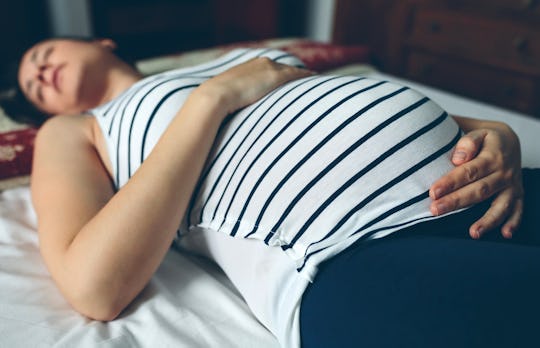 Shutterstock
These 12 Sex Toys Are Perfect For That Unpredictable Pregnancy Libido
Pregnancy can have a powerful affect on your sexuality. You might find that your libido lifts up or falls down, thanks to those havoc-wreaking hormones. And that's when sex toys for pregnant women can help you achieve an orgasm on your terms.
"Solo sex might be a very good option for many pregnant women, especially those whose partners have withdrawn or are absent," Carol Queen, Ph.D., a sexologist, tells Romper. (Sexology is the scientific study of human sexuality, including sexual development, gender identity, sexual orientation, and more.)
"It's even good for women who want to re-learn their body's sexual responses in light of the hormonal changes of pregnancy," adds Queen, who also has a Ph.D. in sociology. And sex toys can give you lots of options for pleasure when playing solo. You can use these toys alone, or even as means of foreplay when you and your partner are feeling frisky together.
For the most part, you should be able to enjoy sex toys during your pregnancy with no problem. Dr. Leah Torres, M.D., an OB/GYN who specializes in reproductive health in Salt Lake City, UT, previously told Romper that "using a vibrator while pregnant is completely safe as long as you don't have any pregnancy complications." She suggested checking with your provider who can tell you which ones are safe and which might be problematic. "This will basically help pregnant people and their partners decide what they can do sexually," says Queen. "And it very much affects what sex toy you would choose, because sex toys (vibes in particular) tend to make orgasm easier." Ask your OB which ones you can — and can't — use to always be on the safe side.
Of course, it goes without saying that you need to keep your toys neat and clean. "Choose silicone toys, which are extremely easy to clean," advises Queen. "If vaginal insertion is okay, cover the toy with a condom." And above all, listen to your body. If it doesn't feel good, don't do it.