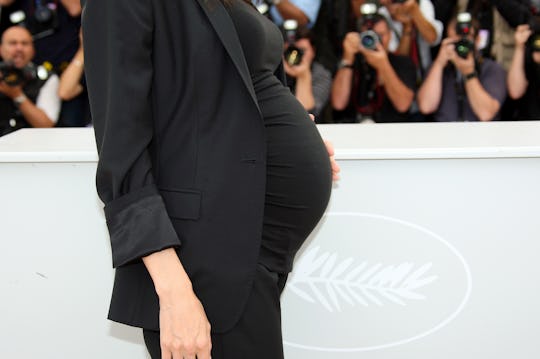 VALERY HACHE/AFP/Getty Images
12 Things No One Warned You About During Pregnancy, But Definitely Should Have
Pregnancy is supposed to be (arguably, if a woman can experience and/or chooses to experience it) the most wonderful time in a woman's life, right? Our bodies are building an entire human from scratch, and that's an amazing thing, no doubt about it. Having said that, the process of growing a baby isn't always filled with sunshine and rainbows. For every beautiful and wonderful change our pregnant bodies go through, are some really weird things that happen to our bodies during pregnancy that we just don't anticipate experiencing.
This probably wouldn't be the case if our friends or family or, oh I don't know, the many books about pregnancy, had warned us about the impending weirdness that is pregnancy. But, alas, here you are; reading an article about weird pregnancy things that no one warned you about because, well, no one fully explained the phenomenons that accompany baby-growing to you (or me, or anyone else). How rude, right?!
Fear not, mama bird, for I am here to to first congratulate you on your exciting news and impending trip towards motherhood, and then to make you completely and fully aware of some of the very strange, yet oddly amazing things that your body might subject you to during the next nine (or more) months of your life. Wondering what will happen to your breasts during pregnancy? What about why your skin during pregnancy or you're abnormally high sex drive? The good news is that while some of these upcoming experiences may be odd, you're going to be just fine. The bad news? Well, things are about to get, you know, really damn weird.
Here are 12 things no one warned you about during pregnancy, but definitely should have. Also, you're welcome.