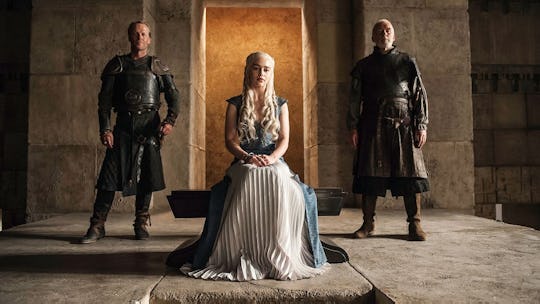 HBO
12 Things People Who Would Definitely Be In House Targaryen Know Better Than Anyone
Of all of the many different houses on Game of Thrones, House Targaryen has always held a special place in my heart. Not just because Daenerys is beautiful and fierce as hell while also being inherently good (a combo hard to come by in the Seven Kingdoms), but also because she alone has made the name mean something more than a psychopath prince of a brother and long-dead mad king of a father.
True, Dany was/is a Dothraki Khaleesi too, and for a time, reigned over Meereen, but she is the only true Targaryen we know. (Well, to the best of our knowledge, barring any huge fan theories being true.) But another reason to keep a close eye on House Targaryen is because, much like other important Game of Thrones houses, its origins go back farther than we as readers or even as viewers get to witness. And for those of us who would totally be in House Targaryen, if only Westeros was the real deal (sigh), we know the important role The Targaryens have in the claim of the iron throne. As in, it belongs to them (namely Dany, so back off Cersei).
People who would be in House Targaryen also know the truth behind Raegar Targaryen's Tower of Joy and Lyanna Stark being held there for several years. Again, parts of this involve the fan theory of Jon Snow being the child of Lyanna and Raegar and not, in fact, Ned Stark's bastard, and has all but been confirmed by Geore R. R. Martin.
I won't deny the attraction of all of the different houses on Game of Thrones, since they all have a certain kind of power to them, but people who would be in House Targaryen are pretty important and know a hell of a lot more than dragon lore.