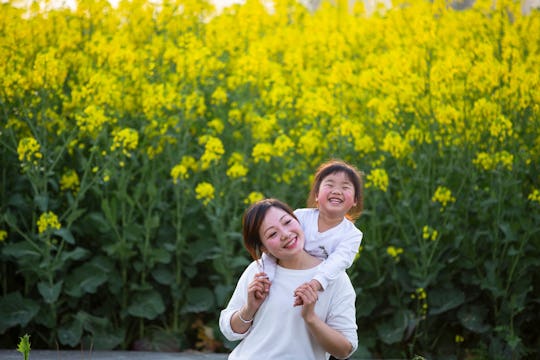 Bo Bo/Stocksy
These Pro Tips Will Help You Take Mother's Day Photos Your Partner Will Love
There's a lot of things moms don't get due credit for — quelling temper tantrums twenty times a day, gluing popsicle sticks together at one a.m., literally creating life. I think some of this mom under appreciation comes from the fact that not everyone sees what moms do, because they're never in pictures with their kids, taking the shots instead. So this year, I'm calling on mom supporters to learn how to take pictures of your partner or kids as a Mother's Day gift.
Seriously, documenting moms doing mom things could help the greater population understand exactly how hard it is to be a mother; seeing is believing, after all. And taking pictures is easier than ever now thanks to smart phones, though lot of people still struggle to take good photos. (Shout out to strangers I've made take 27 pictures of me because they couldn't get it right the first time.) So Romper talked to Sam Ciurdar, a professional photographer and father of two, about his best practices for taking smart phone pictures, getting the rundown on what he does when taking personal shots of his wife and kids. Hey, if it works for a pro, it'll work for you too. Even he can't have a fancy camera available 24/7, but one thing he does always have is his iPhone in his back pocket.
Read on for twelve tips from Ciurdar for taking pictures of your family, and get ready to be the Mother's Day hero she's been waiting for. Psst: head to Ciurdar's website and Instagram page to see his work.