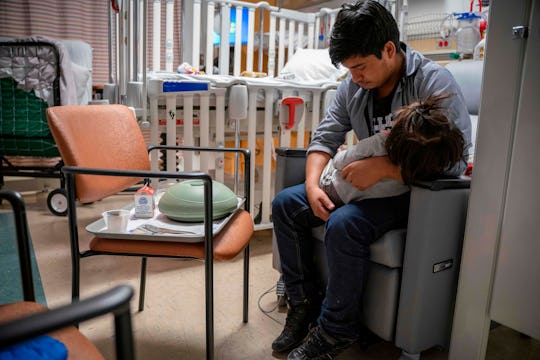 PAUL RATJE/AFP/Getty Images
How To Advocate For Your Kid When They're In The PICU
No parent wants their child to end up in the hospital, but it can happen to anyone. It's important to know how to advocate for your child in the hospital so your little one can get the best care possible, and have the best possible experience during an otherwise scary time. Your child, and their doctors and nurses, will thank you.
In the PICU (which stands for Pediatric Intensive Care Unit), nurses take care of children who are sicker than most, or who have experienced traumatic injuries. They know firsthand just how much mom or dad advocating for their kiddo can help on their journey to healing. In fact, Christina Odom, BSN, RN, a PICU nurse at Wolfson Children's Hospital of Jacksonville, tells Romper that nurses love seeing parents involved in the day-to-day workings of their child's care.
"A parent advocating means being present for daily rounding, asking any questions they have, being hands-on in their child's day-to-day care, and being vulnerable alongside their child throughout their stay in the PICU," she says. "Having a parent or family member present to advocate for a patient is extremely refreshing as a PICU nurse. Unfortunately, we are often put in situations where family is not present or proactive in a patient's care, and it can be difficult for the staff and potentially affect the care of the child."
"Advocating means being a voice," Calli Riley, RN, a PICU nurse at Children's Hospital Colorado, tells Romper. "Most children don't have one, which doesn't mean they can't say yes or no or give a blunt opinion, but they don't always understand why something is happening and why they're going through this experience. Each child is unique and their parents know them best. I can't emphasize enough that parents are the experts on their child, and we're the experts on medicine, and merging those together is really the ultimate goal."
So, when it comes to your baby, how can you make sure their PICU stay is as positive and productive as possible? Here's what these child health pros have to say.