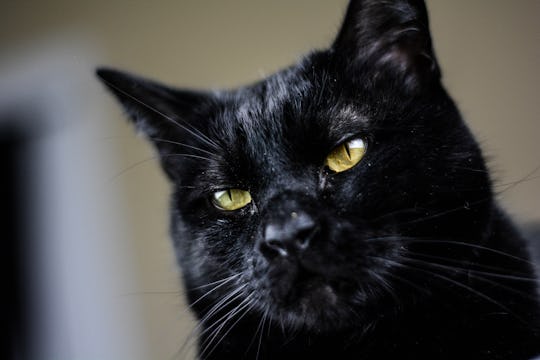 Shutterstock
Avoid Black Cats & Ladders With These Friday The 13th Instagram Captions
You guys. It's time. Friday the 13th is here, which doesn't sound all that compelling on its own, but then you add in the full moon happening, and the fact that it's September. Hello, is your hair standing up on the back of your neck, too? It's the ultimate spooky-sounding night, and these fall Friday the 13th Instagram captions are really going to hammer it home for you and your feed.
I am superstitious. I can say it without a trace of shame or embarrassment because y'all, I'm not about to get cursed trying to act cool. While I won't move across the street if a black cat crosses my path, I will avoid walking under ladders, putting shoes on the table, and I always toss salt over my shoulder when I spill it. It's just good juju, and I'm half convinced that those superstitions keep this world spinning on. What would happen if everyone pretended like superstitions didn't exist and went all willy nilly on some broken mirrors? Chaos, that's what. Have I ever told you about the time I dropped my grandmother's hand mirror and literally wrote in my diary that I was counting down the days until those seven years of bad luck were up? They ended when I was 14, and then I got kissed for the first time so like... I'm prone to believe.
If you are too, these 13 Instagram captions for Friday the 13th are just for you.