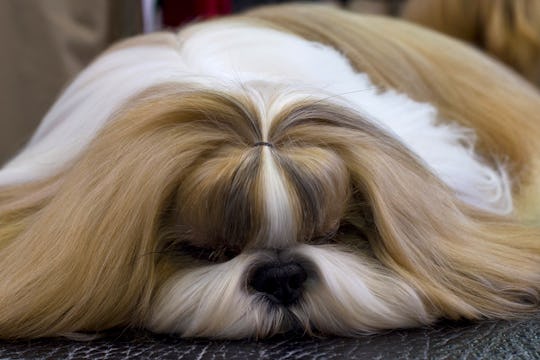 Ben Pruchnie/Getty Images News/Getty Images
These 13 "Hypoallergenic" Dog Breeds *Might* Still Make You Sneeze
Mother nature has a twisted sense of humor: Dogs have coevolved with us to become our best animal friends, but some people are stricken with an allergy to these pure balls of joy. Thus the quest of finding a "hypoallergenic" dog is a holy grail of sorts, and it's tempting to believe that there's a perfect breed out there that will grant your nose, eyes, and sinuses a reprieve.
The truth, however, is more complex. (Isn't it always?) A 2011 study published in the American Journal of Rhinology & Allergy was unable to find a reduction in the levels of one major allergen protein in the homes of those with "hypoallergenic" dog breeds vs. other breeds.
It's important to understand how dogs cause allergies before setting out to find the right pup. It's not necessarily the fur itself, but proteins secreted in their saliva, dander, and other bodily fluids, something that all dog breeds can carry. As explained by the American Academy of Allergy Asthma & Immunology, "The proteins found in a pet's dander, skin flakes, saliva and urine can cause an allergic reaction or aggravate asthma symptoms in some people." Shedding can further trigger symptoms when dander particles and saliva sticks to the dogs' fur. Dr. Lynn Buzhardt, DVM, writes for the Veterinary Centers of America: "Saliva sticks to the hair when a dog licks himself… [d]ander lies on the dog's skin and coat and is left behind when the dog sheds hair or shakes... How hypoallergenic a dog is may depend on the individual dog and person."
While there's no proven totally "hypoallergenic" dogs, here are some low-shedding breeds that may be less likely to trigger milder allergies.