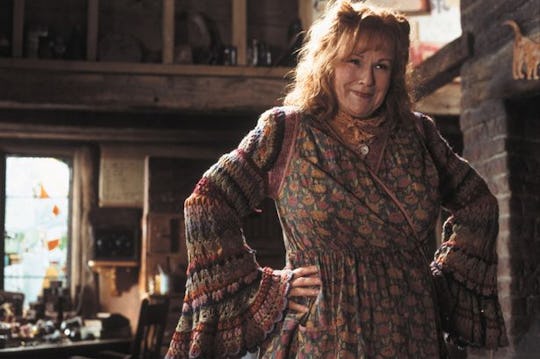 Warner Bros
13 Parenting Lessons From Molly Weasley, Because There's No Spell To Fix Temper Tantrums
You can learn a lot about being a parent from Harry Potter, but the parenting lessons from Molly Weasley are the ones that are going to get you through everything from newborn nighttime feedings to your teenage sons stealing an enchanted car to break their friend out of his home.
Before I had my own daughter, I could recognize that Molly Weasley was a parenting role model. I just didn't really understand just how far the depth of her love for her children went. But now, as a mother, reading the scene where she's faced with a Boggart is terrifying. If you're not a hardcore Harry Potter fan, you might've forgotten that the Boggart transforms itself into your worst fear when it's in front of you. And Molly Weasley's? It constantly turned into one dead family member after another, mainly her children.
If that doesn't hit you right in the heart I don't know what will. Molly Weasley, a fictional witch, is wired like all mothers. She is fiercely protective of her children and will sacrifice anything to keep them safe, even herself. But she's full of other parenting wisdom too. You don't have to have seven ginger-haired kids to relate to her, nor do you have to be a phenomenal badass witch. You just have to be a mom who loves her kids and tries her best to follow these 13 parenting lessons.