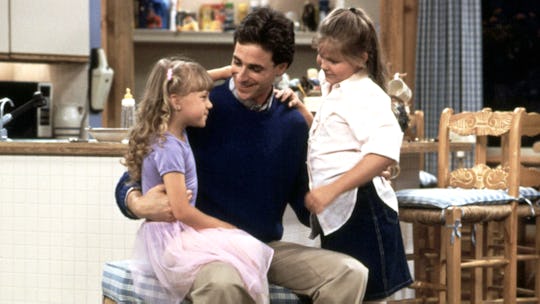 Warner Bros.
13 Parenting Lessons To Take From Danny Tanner, The Best Dad To Come Out Of the '90s
As a child of the '90s, there are certain sitcom families I know better than my own, and that includes Full House. The show was wholesome, fun, and featured a very sexy John Stamos, but it was also full of some great life advice. Whether you were hearing Joey retell a story from his childhood or witnessing the great parenting lessons from Danny Tanner, you knew you were in for some good TV.
Apparently the rest of the world thought we could use some more of Mr. Tannerito, too. The show's spinoff series, Fuller House, premieres Feb. 26 on Netflix and I am majorly stoked to see my favorite family of nerd-bombers again. Didn't we all want to be as smart as D.J. Tanner? Or kill a dance routine like Stephanie or be as sassy as Michelle? But the men of Full House were just as great. I mean, there was no one as cool as Uncle Jesse and Joey did the best impressions. But the greatest character of Full House was most definitely Danny Ernest Tanner, the man who once had a talking washcloth named Terry as his best friend. He was a neat freak, a hug enthusiast, and an incredible dad to his three young girls. Sitcoms are known for their perfect families, but even Danny Tanner showed his human side with these 13 parenting lessons, and they are ones I'd be proud to implement in my own role as a mother.